EUROBASKET NEWS REPORT - 11/14/2008

Copyright © 1997-2008 Eurobasket
WARNING:
Do not copy, redistribute, publish or otherwise exploit information that you download from the site!
Do not encumber, license, modify, publish, sell, transfer or transmit, or in any way exploit, any of the
content of the report, nor will you attempt to do so.
More info:www.eurobasket.com





Men News

*****************************************************


ABA second week Power Rankings - by Gianni Pascucci
The American Basketball Association released its second Power Rankings following its season-opening game last weekend. 'Not too much movement as we had only one regular season game plus an exhibition game,' stated ABA CEO Joe Newman. 'But we felt it important to make changes each week in November with the limited number of games until the league gets into full swing in December. The Nashville Broncs defeated Knoxville in a regular season game, San Francisco lost a close one to Fresno in an exhibition game. So we made a couple of changes.'

1. San Diego Wildcats
2. Beijing Aoshen Olympian
3. Nashville Broncs
4. Jersey Express
5. Montreal Matrix
6. Atlanta Vision
7. San Francisco Rumble
8. Maywood Buzz
9. Houston Takers
10. Knoxville Thunderbolt
11. Winston-Salem Storm
12. West Virginia Blazers
13. Washington Raptors
14. Kentucky Bisons
15. Gallup Talons
16. Southeast Texas Mustangs
17. Arizona Rhinos
18. Cleveland Rockers
19. Modesto Bearcats
20. Las Vegas Aces
21. Alaska Dream
22. Westchester Phantoms
23. West Texas Whirlwind
24. Phoenix Fury

Nashville Broncs preparing their Home Opener - by Gianni Pascucci
After kicking off their inaugural season by routing the Knoxville Thunderbolts on the road, the Nashville Broncs climbed the ABA rankings till the 3rd place. The team plays the first home game this Friday night at Nashville Municipal Auditorium against the Winston-Salem Storm. Doors open at 6 PM and tip-off is at 7:30 PM. Besides offering fast-paced and high-scoring basketball played by star players well-known to the Metro area, the Broncs will live up to the ABAs motto More than just a game by treating basketball fans to a plethora of family-fun activities and entertainment, including a Half-Time performance by country singer, Mindy McCready. Pre-Game entertainment begins at 6:30 PM local R&B artist, RIO. Nashville Broncs owner Scott Lumley comments, We are offering local access to exciting professional basketball and great overall family entertainment at an accessible price.

*****************************************************


Zimic gets chance, delivers big time - by Sead Buljina
In a road game vs. C. Zvezda Emir Zimic (217-C-86) finaly got a serious chance to show what he can do on the floor. In a career-high 35 minutes of playing time Zimic established an inside defensive presence in the paint blocking 4 shots and changing many more. He had also 13 points, 7 rebounds, 3 assists and 4 steals finishing game with 27 efficiency index, which was the second only to Ante Tomic's 32 in the 7th round of the Adriatic league. After two seasons spent on recovering from a couple injuries and three seasons of warming up Bosna's bench Zimic finaly got significant playing time. This down-to earth guy had deserved his chance long time ago, but there was no courage and willingness in Bosna to let Zimic play when he was 18 years old. Instead, Bosna kept bringing Serbian players to play back ups at center while Zimic sat on the bench. Thus, Zimic will never become a player he could have become. However, he is still young and gifted to become a very good player. In the game vs. C.Z. he was able to outplay Kikanovic who's got similar body frame, but is shorter than Zimic. In order to be a center who can carry the load for his team, Zimic must bulk up. In the meantime, Bosna badly needs a center that can stop physically dominant opposing centers. Most teams from Adriatic league have at least one big guy. With a strong center, a go-to guy and Zimic as a solid back-up Bosna would be a tough to beat in the paint. In any case, Emir Zimic has proven that he's got the game. Emir Zimic (217-C-86)

*****************************************************


Espil returns, Alloatti to Lanus - by Facundo Iatzky
Juan Espil (193-G-68, agency: Interperformances) is back in Boca juniors. For this reason, coach Oscar Sanchez had to release one player and the one was Alejandro Alloati (203-F/C-84). Although the player found a team very quickly because Lanus need a power forward after the injury of Andres Rodriguez who will miss the rest of the season. So both parts agreed in terms and Alejandro will be able to make his debut the next weekend.

Other movements:
Oscar Heis (192-F/G-77) moved to Asociacion Italiana
Alma Juniors released Emmanuel Clifton and signed Sylbrin Robinson (201-F-80, college: Northeastern).
Claudio Farabello (196-F-71) announced his retirement so he will not play anymore for Estudiantes Concordia in liga B.

Peniarol and Quilmes in trouble. - by Leonardo Contieri
The board of discipline decided today that when the first stage of regular season ends, Peniarol will have taken away four points and Quilmes three points due to the severe incidents between both teams fan on the Mar del Plata derby played last friday. The first stage finishes next sunday and the top three teams from each group will qualify to the Super 8, they will be accompanied by the best fourth team and a team invited by the organization, most likely to be Obras Sanitarias, since the tournament is going to be played on its court. On friday, Javier Martinez is expected to make his debut on Sionista as he replaces Pablo Rizzo. Also alejandro Alloatti si expected to debut in Lanus after being cut by Boca and El Nacional will feature Paul McPherson who replaces Ralph Holmes.

*****************************************************


Tigersharks and UB Win in BBA Tournament!!! - by David Magana
Last Thursdays games played in the regular season of the BBA Tournament saw the Tigersharks (3-0) going up a very indiscipline and probably the weakest team in the tournament; the Eagles (0-2), while the UB Black Jaguars squared off in the main event against the Belize Bank Bulldogs. In the first game, the Tigersharks just played around with the Eagles as a cat does before killing its prey. They beat the Eagles 84 64 and the only good thing worth mentioning is the fact that Kurt Burgess (-F/C) was on fire for the Tigersharks ending with an astonishing double double night, 34 pts, 26 rebs and 2 blocks, Lester Cadle (188-G-80) contributed 21 pts, Eugene Jex also with double figures, 17 pts, 10 rebs. In a losing effort, Lindy Gill finished with 17 pts and Arton Hanson with 13 pts.
In the main event, The Belize Bank Bulldogs (1-1) stepped on the arena probably over confident that they would simply walk over the University of Belize (3-0) after their last overwhelming victory they had in their opening night against the Eagles. From the get go the Jaguars pressed the Bulldogs, played a very good defensive game and were very assertive going up the hoop. In the end they simply blasted the Bulldogs by 103 83. For UB, Lennox Bowman (180-G) ended with 20 pts, Jorett Jones 18 pts, 1 block, Lindsberg Graham (178-G-83), in double figures, 15 pts, 10 rebs, Winston Pratt also in double figures, 13 pts, 12 rebs, Farron Lauriano 11 pts, 6 rebs and Travis Lennon with 10 pts, 6 rebs. In a losing effort, Darwin Leslie (191-F/G-81) finished with 22 pts, 8 rebs, Greg Rudon (180-G) 17 pts and Tyrone Edwards (186-G, college: Hillsdale) 10 pts.

Stats Leaders


BBA Tournament Stats Leaders
Points Per Game
1. Aubrey Lopez 23.3ppg
2. Kurt Burgess 22ppg
3. Winston Pratt 18.5ppg

Rebounds Per Game
1. Kurt Burgess 20.5ppg
2. Evan Salazar 13.3ppg
3. Farron Lauriano 8.5ppg
Assists Per Game
1. Tyrone Edwards 4.5pg
2. kelvin Gillett 4pg
3. Kurt Burgess 3.5pg



*****************************************************


Zimic gets chance, delivers big time - by Sead Buljina
In a road game vs. C. Zvezda Emir Zimic (217-C-86) finaly got a serious chance to show what he can do on the floor. In a career-high 35 minutes of playing time Zimic established an inside defensive presence in the paint blocking 4 shots and changing many more. He had also 13 points, 7 rebounds, 3 assists and 4 steals finishing game with 27 efficiency index, which was the second only to Ante Tomic's 32 in the 7th round of the Adriatic league. After two seasons spent on recovering from a couple injuries and three seasons of warming up Bosna's bench Zimic finaly got significant playing time. This down-to earth guy had deserved his chance long time ago, but there was no courage and willingness in Bosna to let Zimic play when he was 18 years old. Instead, Bosna kept bringing Serbian players to play back ups at center while Zimic sat on the bench. Thus, Zimic will never become a player he could have become. However, he is still young and gifted to become a very good player. In the game vs. C.Z. he was able to outplay Kikanovic who's got similar body frame, but is shorter than Zimic. In order to be a center who can carry the load for his team, Zimic must bulk up. In the meantime, Bosna badly needs a center that can stop physically dominant opposing centers. Most teams from Adriatic league have at least one big guy. With a strong center, a go-to guy and Zimic as a solid back-up Bosna would be a tough to beat in the paint. In any case, Emir Zimic has proven that he's got the game. Emir Zimic (217-C-86)

Standings - BIH League


D1 Standings

Standings - D2 Leagues
D2 Leagues Standings


A1: Celik - Trica 104:31 - by Sead Buljina


In the first round of a new A1 season Celik beat Trica by a margin of victory of 73 points, whie Vogosca MIMS with a young team won by +45. Celik, along with Triland is a favorite to win this year's A1 league and return to D1. Along with players from last season Adem Pezer (211-C-86), Haris Jahic (187-G-81), Adelmo Delic (192-G-86), Ermin Suljic (202-F-87), Haris Taric (200-SF-89), team from Zenica has brought three strong reinforcements in point guard Nikola Jovanovic (185-PG-87), Bogoljub Davrnja (204-F/C-79) and Kabine Sisoko (204-PF-85). Sisoko is probably the first player from Mali that plays in any Bosnian league. A1 first round scores:

Celik - Trica Mann Hummel 104:31
Triland - Kakanj 86:61
Vogosca MIMS - Lukavac 100:55
Cazin Limometal - Play Off IPSA 115:96
Bihac - Velpak 72:69
Brcko Distrikt - Student 86:85



*****************************************************


ESPN Magazine recognizes Penn - by David Edole
McNeese State's Kleon Penn (211-C-86) is a monster. Not the kind with fangs and claws, but the sort who shreds opponents' FG ratios with his monstrous blocks. At 6'11', 285 pounds, the Bayou beast became a nightmare in the Southland Conference with his 117 blocked shots (fourth in D1 last year), an average of four swats a game. What's truly scary, though, is that this is from a JC transfer whose hoops resume lists only eight games with H. Lavity Stoutt CC and two years playing for a club team in his native British Virgin Islands (where incidentally he posted a triple-triple: 11 points, 10 rebounds and 10 blocked shots). And now that he's got the green light to play his senior year, offenses everywhere should be running scared. - Magazine editor Jenn Holmes

*****************************************************


Sports Department refuses to pay expenses of matches in national basketball championship - by Pedro Gomes
The Department of Sports will not accept any justification for expenses resulting from the games in round B of the National Basketball Championship between Fogos Spartak and Maios Onze Unidos. The Department of Sports considers the competition irregular, as one of the teams - Onze Unidos - did not participated in any regional championship.

Sports Department director Incio de Carvalho believes that it made no sense to spend money with last Saturdays game in So Filipe, because Spartak is the only one of the two teams that earned the right to participate in the national championship by participating in regional tournaments.

Carvalho believes that if the Cape Verdean Basketball Federation decided to exclude the winner of the South Santiago championship from the national tournament because of the problems that took place during the regional competition, it should also refuse to accept the participation of Onze Unidos from Maio, an island that held no regional championship.

Carvalho expressed his failure to comprehend the Cape Verdean Basketball Federations criteria, and on November 4 informed the Federation that the Department of Sports would not accept any expense carried out with a round that included the unjustified participation of a team.

The Cape Verde basketball Federation schedule the Poul B competition in Fogo to also decide the National champions, since the team from Sao Vicente island decline to participate in any final championship games. The team from Sao Vicente Island won Poul A of the National championship.

Cape Verde National Champion Spartack of FOGO - by Pedro Gomes

Spartack of the Fogo Island captured the national title by successfully beating the team from Maio Island, Onze Unidos, 75 to 35. The game that should have served to define the representative of Poule south (B) for the National championship, ended up dictating the winner of the National championship for 2007/2008, because of the forfeit by Mindelense, the winner of the North group (A).
The game was played on November 8, in the Simo Mendes gymnasium, in Sao Felipe. The game was of weak quality, the home team, Spartack won by a margin of 40, Onze unidos did not give them any pressure.

*****************************************************


Fields Returns for Another Run - by Richard


Minot, ND November 11, 2008 The Minot Skyrockets announced today the return of Ronnie Fields (6'4''-G-77, agency: Edge Sports) to the Skyrockets roster, pending league approval. Fields is a 6 4, 225 pound guard who has played for the Skyrockets the past two seasons. He joined the Skyrockets on January 17, 2007 and has been a fan favorite ever since. Last season, he averaged 21.4 points and 4 rebounds per game, leading the Skyrockets to the CBA championship series. In the playoffs, Fields averaged 20.9 points and 4 assists per game, leading the American Conference Champion Skyrockets. Fields will join the team on December 3rd for veterans camp. Two weeks later, on December 17th, the Skyrockets have their home opener against the Albany Patroons.

While playing for the Skyrockets last season, Fields broke the 6,000-point mark, becoming the 6th all-time leader scorer in CBA history. Fields, along with fellow Skyrockets Kevin Rice and Sidney Holmes, made his fourth CBA All-Star team. Fields was also named All-CBA First Team member for the third time in his career along with being named to the CBA All-Defensive Team.

'We're committed to taking the Skyrockets to the next level and bringing family-friendly affordable entertainment to the city,' Skyrockets Vice President Peder Rice said. 'Bringing back Ronnie Fields is a step in that direction. Ronnies a walking highlight reel and one of the best, most unique players to ever play in the CBA. We think in bringing back Ronnie, were well on our way to bringing a CBA championship home to Minot.

Courtesy of Minot



*****************************************************


CBA to Begin 50-game Season with 18 Teams - by Arthur Volbert
The 2008-2009 CBA season opens Saturday with a game between Dongguan and Jiangsu. The other 16 teams will open their season on Sunday.

Two new teams have been added to the league this season -- Qingdao Double Star and Tianjin Rongcheng. Liaoning has changed its nickname from the Pandas to the Dinosaurs.

Each team will play 50 regular season games. The teams will play three games per week, usually on Sunday, Wednesday and Friday. The regular season ends on March 20.

The team rosters were finally posted Tuesday at http://cba.sports.sina.com.cn/teams.php . However the listing of imports on these rosters is very incomplete. As our colleague Robert Wang notes, some of these imports may be immediately replaced after the first game. It would not surprise me if some are replaced before the first game.

This list was supplied by sinobball at http://forums.interbasket.net/ and was last updated Monday November 11.

Dongguan -- Jamal Sampson and Mike Harris
Tianjin -- Theron Smith and Darryl Watkins
Zhejiang Horses -- Sam Hoskin and Kirk Snyder
Jilin -- Soumaila Samake and Leon Rodgers
Fujian -- Chris Porter and Matt Freije
Zhejiang Lions -- Nigel Dixon and Kasib Powell
Jiangsu -- Donnell Harvey and Brian Butch
Shandong -- Mack Tuck and Priest Lauderdale
Liaoning -- Awvee Storey and Tommy Smith
Xinjiang -- Juan Mendez and Myron Allen
Guangdong -- Tyler Amaya and Jason Dixon
Yunnan -- DeMarco Johnson and Gabe Muoneke
Beijing -- Dontae Jones and David Harrison
Shaanxi -- Lee Benson and Brandon Robinson
Qingdao -- Amal McCaskill and Frans Steyn
Shanghai -- Dajuan Tate and Ernest Brown
Shanxi -- Olumide Oyedeji and Donta Smith

Asian imports (count as domestic player):
Shaanxi: Kamran Jamshidvand (IR Iran)
Tianjin: Saman Veisi (IR Iran)
Qingdao: Park Sung Jin (S Korea)
Shanxi: Ruslan Gilyazutdinov (Kazkahstan), Sun Huan Po (Taiwan)
Yunnan: Wang Hsin Kai (Taiwan)
Jilin: Yang Yu Min (Taiwan)

Teams may now use two imports at a time for the entire game, rather than just for one quarter, except when playing against importless Bayi. The six lowest-seeded teams were allowed an additional import from Asia.

There are at least 14 players in the league 210 cm or over. There may be a 15th in Xu Jinlong of Yunnan, a 212 cm center who was beaten out by 212 cm Xu Zhonghao at Bayi. But Xu is listed with incorrect statistics so I cannot be sure.

The most interesting new big man may be 215 cm Jiang Liyang of Jiangsu. Jiang was 6-7 when he enlisted in the Chinese navy and then sprouted to 7-1 like David Robinson. He was originally listed as born in 1986 but seems to have been born in 1988. He may have lied about being born at an earlier date to get into the navy, a behavior more associated with female gymnasts than male basketball players.

The tallest player in the league is 218 cm Zhang Jiadi (218-C-88) of Zhejiang Guangsha. Zhang was beaten out by 215 cm Han Dejun at Liaoning, so he was moved to Guangsha.

220 cm Sun Zhe did not make the Dongguan team this year. Perhaps he must put on some weight and muscle before he is ready for CBA play. The league is far more physical today than when Yao Ming first came up and and Sun may need to get stronger before he can compete.

*****************************************************


Standings - Division A


Division A Standings

Standings - Division B
Division B Standings


*****************************************************


NBL Round: 11 (Regular Season) - by Eurobasket News
Nymburk - USK Praha 96-68
Nymburk is 10-0 now in the League after home win over USK Praha 96:68. Six players reached double digits as Schilb Blake top-scored for the winners with 20 points. Satoransky Tomas brought his team 17 points as Praha fell at 6-4.

Prostejov - Pardubice 69-81
Prostejov could not keep a positive record falling at 5-5 after a home loss from Pardubice 69:81. Ames Rashaan paced all the winners with 20 points and Stanek Pavel netted 18. Sanders Levell produced 22 points in defeat.

Opava - Liberec 75-83
Opava and Liberec struggle for the fifth win and the latter was glad to take 75:83 away from home. Blazek Jakub top-scored for the winners with 23 points and 6 rebounds. Dygryn Ondrej ended up with 18 points for the hosts.

Ostrava - Kolin 93-71
Ostrava stun Kolin 93:71 to tie them at 2-8 record. Arnold Marcus notched 19 points and made 9 rebounds. Machac David ended up with 23 points in the losing effort.

Decin - Geofin 69-83
Geofin follows the defending champions with 9-1 record and won over Decin 69:83 away from home. Walker Kenny finished the night with 18 points, while Sarovic Robert collected 17 points and 11 rebounds. Hatcher William produced 17 points for the home side.



*****************************************************


Former D-Leaguers in NBA Action on Wednesday, November 12th - by Surujh Roopnarine
Louis Williams: 11 minutes: 7 points, 3-4 FG
Jamario Moon: 23 minutes: 5 points, 3 rebounds, 1-8 FG
Stephen Graham: 12 minutes: 12 points, 2-4 FG, 6-6FT
Josh McRoberts: 14 minutes: 2 points, 3 rebounds
Bobby Simmons: 23 minutes: 5 points, 5 rebounds, 3 assists, 2-4 FG
Daequan Cook (6'5''-G-87, college: Ohio St.): 34 minutes: 11 points, 5 rebounds, 4-14 FG
Joel Anthony: 13 minutes: 3 points, 5 rebounds, 1-2 FG
Anthony Roberson (6'1''-G-83, college: Florida): 6 minutes: 9 points, 3-3 FG
Ime Udoka: 16 minutes: 3 points, 1-5 FG
Anthony Tolliver (6'9''-C-85, college: Creighton): 28 minutes: 9 points, 6 rebounds, 3 assists, 4-10 FG
Ramon Sessions (6'3''-G-86, college: Nevada): 24 minutes: 13 points, 3 rebounds, 3 assists, 5-7 FG
Jordan Farmar: 19 minutes: 4 points, 6 rebounds, 2-6 FG
Devin Brown: 10 minutes: 1 steal, 0-2 FG
Anthony Johnson: 13 minutes: 4 points, 2-4 FG
C.J. Miles (6'6''-G-87): 18 minutes: 16 points, 4 rebounds, 5-9 FG
Andray Blatche: 21 minutes: 7 points, 5 rebounds, 2-6 FG
Mikki Moore: 23 minutes: 8 points, 2-3 FG
Mike Taylor: 11 minutes: 3 points, 2 rebounds, 1-3 FG
Rafer Alston (6'2''-G-76, college: Fresno St.): 27 minutes: 15 points, 4 assists, 3 steals, 7-11 FG
Chuck Hayes: 16 minutes: 2 points, 4 rebounds, 2 blocks, 1-2 FG
Aaron Brooks (6'0''-G-85, college: Oregon): 25 minutes: 19 points, 4 rebounds, 8-13 FG
Matt Barnes (6'7''-F-80, college: UCLA): 27 minutes: 11 points, 7 rebounds, 5-13 FG
Louis Amundson: 6 minutes: 6 points, 3 rebounds, 2-3 FG

*****************************************************


18th Hariri tournament Ahly and Sporting wins their starting game - by Sherif Soliman
Ahly won over Antranik(LEB) 85-75 in the starting game of Hariri tournement ,Also Sporting beated El Moutahed (LEB) by 5 po.in a very close game. A good start for the Egyptians in Lebanon with good chanses to reach the Semifinal .Group (A) holdes: Reyadi (LEB), Ahly (EGP), AL Hilal (KSA), Antrniqe(LEB), Mouhareq(Bah). Group (B) holdes: Moutahed(Leb), Blue Stars(Leb), Sila(Mor), Sporting(Egy), Reydi(JOR).Ahmed Muniel (186-G-80)

*****************************************************


CSKA enjoys record three-point night! - by Richard


Defending champion CSKA Moscow put on the best three-point show in the Euroleague this decade on Wednesday as it opened the fourth week of the regular season with a 90-68 blowout win over visiting Efes Pilsen Istanbul in the Russian capital. CSKA not only tied the existing record for three-pointers made in one game, 18, but did so with more efficiency. The record that CSKA tied was 18-for-34 shooting from the arc by Lottomatica Roma playing at Pau-Orthez on December 18, 2003.
CSKA shattered Roma's accuracy rate, however, by making 18 of 25 - or 72% - on Wednesday before its gleeful home fans. Trajan Langdon and Terence Morris both hit 5 of their 7 three-point attempts against Efes Pilsen Istanbul, while Ramunas Siskauskas was 4 for 4 from downtown. Amazingly, CSKA shot even better, 20 for 28, on three-pointers in a domestic Russian Cup game last weekend. With the victory over Efes Pilsen Istanbul, CSKA raised its record to 4-0 for a lock on first place in Group D of the Euroleague regular season.


Courtesy of Euroleague



Curriculum Vitale - How to polish your pro-basketball resume - by Eurobasket


One of the perks of being a pro athlete, you would think, is that you don't have to maintain a rsum. I'm guessing that Kobe Bryant (6'6''-G-78) has never suffered the indignity of typing up an 'Honors & Awards' section or had to remember to put the good paper in the laser printer before running off a dozen copies of his CV. But not every athlete is Kobe Bryant. Let's assume you're a ballplayer on the fringesyou graduated from a college that's better known for honing academic credentials than frontcourt fundamentals, or maybe you didn't play college basketball at all. I've got bad news for you, friend: You're going to have to update that rsumand quick.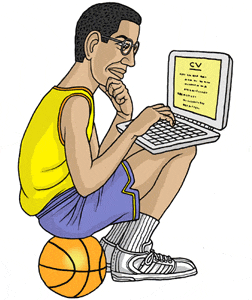 As the NBA season gets under way and the league pulls back the curtain for its brightest stars, a lot of lesser-lights get pink slips. Many of these players look to take their game overseas, where an online rsum is a requirement if you want to land an on-court job. While the NBA is a self-contained circuit, the European leagues and those beyond are sprawling, often loosely connected organizations. Out on the pro-basketball frontier, teams with wildly disparate budgets search for talent across dozens of countries. It makes sense, then, that basketball's talent marketplace has evolved into something like a combination of Monster.com and Match.com, with a healthy dose of Craigslist-style unruliness.

It doesn't matter whether you're a 15-year-old Bulgarian looking for a team or an American former first-round NBA draft pickit's time to start social networking. The first step is to get an agent. If you're not a college stud who caught the gaze of a European superagent, there are plenty of workaday representatives to choose from. Many agencies specialize in a certain type of player: Global Sports Plaza, for example, touts itself as 'the first Macedonian-American based' agency. It's the agent's job not only to whisper in the ear of potential employers but also to jam their inboxes with your credentials.

One reason for the proliferation of the online resume is speed. Coaches and general managers are under pressure to make decisions fast, and these tight deadlines mean that expediency - can you hop on the train from Brussels to Berlin in an hour? - can be as important as talent. John Patrick , the head coach and general manager of BG 74 Goettingen, a team in Germany's top league, maintains a database of players he's monitoring and also 'spot checks' the 10 to 20 unsolicited player resumes he gets in his inbox daily. If Patrick is sufficiently interested, he'll double back to check stats, watch game tape, make phone calls to past coaches, and (depending on time and resources) go to see the player in person.

While the hoops CV serves more as a trailer than the full picture, it's still important to make yourself stand out in a sea of 7-footers. If you're at the top of the basketball matchmaking pool, then your Web presence is most likely a reminder that you are alive, don't weigh 300 pounds, and do, in fact, still play basketball. Former NBA-er Lamond Murray (6'7''-F-73, agency: Interperformances, college: California)'s CV, for instance, stresses that he 'is still only 34 years old, injury free, and in excellent shape.'

Those of us who aren't former first-round picks need to craft a fuller picture. While a glamorous college pedigree and gaudy stats may get you a second look, there are other variables, like the ability to cope with a new culture, that are just as crucial when making the leap overseas. It's just as important to 'explain who you are,' Patrick says. 'Explain your successes on and off the court.'

If you're looking for a model, you could do worse than copying off Gabriel Hughes, an out-of-work center from Cal-Berkeley who's now represented by the Dutch agency Court Side. Along with his height, weight, and stats, Hughes' resume includes a link to a personal highlight reel - team execs look at online video to uncover non-numerical details like gimpy knees, a poor attitude, or third-rate competition - as well as a 300-word personal statement that recaps his professional highs and lows. 'Big men take longer to develop and Gabriel Hughes is a prime example of this axiom,' the promotional copy begins. More rationalizations quickly follow: 'He got a 6-figure contract last season to play for Al-Wasl in Saudi Arabia. While the money was good, Hughes had his season shortened by injury (and the one foreigner on the court rule did not help his stats as he had to share playing time with the other American on the team).' After getting the negatives out of the way, Hughes' CV focuses on the bright spots: 'For a 7-footer, Gabe runs the floor well, has leaping ability, good hands and doesn't mind contact. He also has mental toughness, having survived some of the roughest/dirtiest play. Hughes has always been able to rebound, having led the leagues in Japan and Ireland in rebounding.' And in conclusion: 'He plays hard and hustles. A family man, he has an excellent attitude on and off the court.'

... Read full text at http://www.slate.com/id/2204182

Courtesy of By Elliot Hannon of Slate.com



Euroleague Round: 4 (Regular Season) - by Eurobasket News
Nancy - Zalgiris 69-64
It was a game between two winless teams after 3 games in Group B. SLUC Nancy made it mostly owing to Lamayne Wilson and Ricardo Greer, which were on a high level. Wilson drained 17 while Ricardo Greer added 16 points and 7 rebounds. Jeff Greer helped Nancy netting 11 points. Zalgiris faced with fourth consecutive defeat and in the next round it will host powerful Regal Barcelona. Dainius Salenga scored 15 and dished out 6 assists. Paulius Jankunas and Jonas Maciulis netted 13 points apiece.

Tau - Lottomatica 90-93
Tau Ceramica was trying to stay undefeated after 4th round, but they ran into a very inspired Lottomatica. Italians came into Vitoria confident, and took a lead from the opening tip-off. Lottomatica's strong defense and good shooting from beyond the arc (7-18) gave them a 10-point cushion for most of the game. Sani Becirovic, who was calm the whole evening, made 2 clutch free throws with 25 seconds left in the game. He was 11-12 from the free throw line, and had 23 points in total. Sani was helped by his country mate from Slovenia, Primoz Brezec, who delivered 18 points and grabbed 4 rebounds. Andre Hutson also played an important part of this road victory for Lottomatica with 15 points and 4 boards. Rakocevic ended the game with 23 points, and received help from William McDonald who added 16 points and 8 boards.

CSKA - Efes Pilsen 90-68
Reigning Euroleague champion CSKA Moscow had an easy job against Efes Pilsen remaining the only perfect team in Group D after 4 games. On the other side, the team of head coach Ergin Ataman faced with the second consecutive defeat and now it has 2-2. As a reminder, Panionios On Telecoms celebrated in Istanbul last week. Ramunas Siskauskas top-scored for the winners with 19 points also dishing out 5 assists. Terence Morris was behind him adding 17 points and 5 boards while Trajan Langdon stopped on 15 points. Croatian PG/G Zoran Planinic was MVP of the game collecting 14 points, 8 rebs and 4 assists for 21:23 on the floor. Charles Smith was the only one in Efes who was capable to compete against the Russian powerhouse finishing the game with 22 points.

Unicaja - Cibona 77-67
Unicaja Malaga outplayed Cibona Zagreb at home moving up in Group A on 2-2. At the same time it was the first Euroleague defeat for the head coach Velimir Perasovic and his players (3-1). Boniface Ndong top-scored for the winners with 18 points. He also had 8 more rebounds for 24 minutes. Carlos Cabezas was behind him adding 14 points and 4 boards. Rawle Marshall shined in Cibona collecting 25 points and 5 rebs.

Olympiakos - Maccabi T-A 84-65
Olympiakos didn't have to work very hard in order to beat Maccabi Electra remaining on top of Group A with 3 wins and 1 defeat (same as Cibona). Lynn Greer drained 21 points for the Reds making 4 of 6 attempts from beyond the arc. Croatian center Nikola Vujcic and Panagiotis Vasilopoulos helped with 14 points apiece. Omri Casspi contributed with 16 points and 5 rebounds in defeat. His Maccabi currently has 2-2.

Air AV - Le Mans 78-73
Eric Williams led Air Avelino to second Euroleague victory in Group A scoring 16 points and pulling down 8 rebounds for 20 minutes. Chris Warren this time stopped on 13 points and 6 boards. French representative remains winless, despite great Dewarick Spencer and his 26 points.

Panathinaikos - Montepaschi 81-76
Green PAO handed the first loss to Italian champion Montepaschi, thus both teams have 3-1 in Group B. Regal Barcelona also has the same digits after 4 games. Antonis Fotsis and Nikola Pekovic nailed 14 points apiece for PAO. Montepaschi got 22 points from Ksistof Lavrinovic.

Regal Barca - Prokom 74-62
Regal Barcelona outgunned Polish champ Asseco Prokom in Palau Blaugrana thanks to JC Navarro and his 21 points. Experienced Patrick Burke had 14 points and 5 rebounds in Prokom. Barca now has 3-1 while Prokom dropped on 2-2.

Fener.Ulker - U.Olimpija 89-87
Fenerbahce Ulker needed two over times to beat Slovenian champion Union Olimpija in 'Abdi Ipekci'. With this victory Fenerbahce jumped on 3-1 in Group C, while exactly the same score have Tau Ceramica and Lottomatica Roma. Slovenians demonstrated pretty good performance, but they will have to wait for some other chance in order to grab the first win this season. Emir Preldzic top-scored for Fener with 18 points at the same time collecting 7 more rebounds and 5 assists. Oguz Savas netted 15 while Mursad Turkcan registered double-double, 14 points and 11 rebs. Olimpija got 22 from Vlado Ilievski and two points less from Saso Ozbolt.

ALBA - DKV Joven. 74-72
Very exciting game was seen in Belrin, where ALBA was better than DKV Joventut 74-42. Ansu Sesay scored 15 while Aleksandar Nadjfeji and Adam Chubb drained 12 points each for the winners. Chubb also registered 10 rebounds for 24 minutes. Serbian small forward Luka Bogdanovic delivered 21 points in Joventut missing only one board for double-double. Both teams entered into this game with 1-2.

Panionios - Partizan 72-67
Panionios On Telecoms, with Serbian head coach Aleksandar Trifunovic on the bench, outsmarted reigning Serbian champion Partizan Igokea so four teams are now tied in Group D with the 2-2 record. Aaron Miles collected 18 points and 5 rebounds for the hosts, while another Serbian Brano Cvetkovic stopped on 14 pts and 5 rebs. PG/G Milenko Tepic shined for the visiting team with 19 points and 5 assists.

Real Madrid - Armani MI 70-69
Armani Jeans had a nice chance to make a surprise in Madrid, but its players were not concentrated enough at the very end, what Spanish giant knew how to exploit. Center Felipe Reyes collected 15 points and 9 boards for the winners, while Jeremiah Massey also helped with 15 pts. Mike Hall posted 21 and grabbed 9 rebounds for Italians. Real Madrid how has 2-2 in Group D while Armani is winless yet.



*****************************************************


DEUTSCHE BANK SKYLINERS LOOK TO BREAK MINI BAMBERG CURSE SUNDAY NOV 16TH - by Miles Schmidt-Scheuber


THE DEUTSCHE BANK SKYLINERS are no where near the boundries of the expired curse of the Bambino, which plagued The Boston Red Sox and its fans through the second world war, Vietnam and the cold war, but their inability to defeat The Brose Baskets Bamberg the last years has been discouraging and annoying. The curse of the Bambino lasted 86 years, until The Boston Red Sox finally won another Baseball title in 2004, but Frankfurt is just looking to finally beat the Bavarian club Brose Baskets Bamberg after not having tasted victory in 41 months dating back to game four of the 2005 BBL finals. 'I dont believe in curses at all,' declared Skyliner captain Pascal Roller (180-G-76). Since then the team has lost eight games in a row in all kinds of ways. Most were clear defeats, while there were two blowouts and one very close game last season. The Brose Baskets didnt start out well this season losing three of their first four games, but since then have slowly started to find their rhythm and the signing of American Michael Jordan (183-G-77, agency: Court Side, college: Pennsylvania) ten days ago seems to have been the perfect catch as he combines leadership, experience and talent. 'I am really happy to be back in Germany. The organization has accepted me with open arms', declared American guard Michael Jordan. Frankfurt dont believe in curses and just want to get back on the winning track again against The Brose Baskets Bamberg. The game also will mark the meeting between Michael Jordan and Titus Ivory (193-G-79, college: Penn St.), who won the BBL championship 2006 in Cologne. 'I am really excited to see Titus Ivory again. You never know what he is thinking or what he will do on the court', warned Michael Jordan. Titus Ivory is excited to see his ex teammate.' Michael is a fierce competitor. He plays very hard. We will beat up on each other through out the game, but in the end, we will still be friends'.


The Jako Arena in Brose Baskets Bamberg is as foreign to THE DEUTSCHE BANK SKYLINERS in the last years as would be the view of Bayern president Franz Beckenbauer trading a Bayern Munich sport coat for the rival 1860 Munich sport coat. It has been 53 months since Frankfurt last tasted victory in the hostile Jako arena in game four of the 2004 BBl finals. Frankfurt has lost the last eight games in Brose Baskets Bamberg showing that there could be something mysterious in the air whenever Frankfurt steps onto the court. I dont believe in curses. If we believed all that, then we wouldnt have to play. We have to play Basketball and that is what counts, said American Titus Ivory. The city of the Brose Baskets Bamberg, which like Rome was built on seven hills and is sometimes called the Franken Rome defend their home arena against Frankfurt in the last years about as well as Rome did back in the day against enemies. The city of Rome was undefeated in war until 386 BC, until it was briefly occupied by the Gauls. Frankfurt wouldnt even need to occupy the Jako arena like the Gauls did Rome, but just leave the court as the proud winner after 40 minutes.


In the last three seasons, there have only been two of seven games which THE DEUTSCHE BANK SKYLINERS lost by six or less points. . Who could forget the bitter 80 to 60 loss in the cup in the 2005-2006 season, where Skyliner center Antonio Meeking (203-F-81, college: Louisiana Tech) would injure himself so bad, that he would never regain his old form to this day. In the 2006-2007 season, Frankfurt let The Brose Baskets Bamberg slip away with a 80 to 74 win in overtime, which Frankfurt should of won in the regular time. Their most bitter loss was the 81 to 48 trouncing in the Ballsporthalle in March 2007, which was also the end to the short Charles Barton era, who would be relieved of his duties a short time afterward. Last season, Frankfurt was crushed in Brose Baskets Bamberg 88 to 51, but played a very spirited game in the Ballsporthalle losing a close battle 57 to 54, which was the last appearance of coach Dirk Bauermann in the Ballsporthalle as head coach of The Brose Baskets Bamberg.


A Basketball era is never endless, but sometimes does break apart like the ground does during an earth quake. The tradition in Leverkusen ended last summer as the team moved to Dusseldorf, and in the late 90s the dominance of the Chicago Bulls became history as Michael Jordan (199-F-63, college: N.Carolina) retired and coach Phil Jackson left and soon would win three more NBA titles in Los Angles. The golden era in Brose Baskets Bamberg also ended this past summer after many important puzzles to the championship teams of 2005 and 2007 left. Coach Dirk Bauermann left to concentrate on the job with the German National team, fan favourite Steffen Hamann left to create havoc for opponents in the Berlin O2 Arena, and big man Chris Ensminger left Freak city for the calmer pastures of Paderborn. The only figure remaining from the 2005 championship Brose Baskets Bamberg team is assistant coach Volker Stix


New coach Chris Fleming surely does not have an easy job having to take over the eight year successful legacy of ex coach Dirk Bauermann n, who was able to win two BBL championships and play in many international competitions. Even though, The Brose Baskets Bamberg was successful the last years, their defensive play was not always appreciated by the neutral German Basketball fan. 'Chris Fleming has never been shy of experimenting with offensive Basketball, which will be a positive change in The Brose Baskets Bamberg this season. The teams of Chris Fleming have always been strong, but he has a keen sense of organization on offense and defense, which will help The Brose Baskets Bamberg this season', stated Pascal Roller.


The leading scorer of the Brose Baskets Bamberg is Puerto Rican native Filiberto Rivera (187-G-82, college: UTEP), who played under Fleming in Quackenbrck. He is averaging 13,5 points, 2,5 rebounds and five assists per game. He is a classic point guard, who likes to pass first and then shoot. He can also score when called upon and should function well with an experienced guy like Jordan by his side. American Alexander Johnson (208-F-83, agency: Arik Krayn Services, college: Florida St.) is averaging 12,0 points and 6,6 rebounds per game. He is a physical guy with 102 NBA games under his belt. This is the first destination in Europe for the Georgian native. American 2007 BBL slam dunk contest winner Jared Newson is averaging 11,9 points and 5, 3 rebounds per game. He made a name for himself with the Leverkusen Giants. He almost made the 2007-2008 Dallas Mavericks roster, but was the last cut. Last season he gathered further Basketball experience playing in Australia and Poland.


Croatian Predrag Suput is averaging 9,3 points, 4,8 rebounds and 1,4 assists per game. He is an all around good player being able to play the 2-4 positions. His only blemish is that he tends to have big games, but then again games where he is totally invisible. German National player Demond Greene (185-G-79, agency: Court Side) is averaging 8,4 points, 1,8 rebounds and 1,4 assists. He is very athletic with a dangerous shot. He started his career in Wrzburg, where he played with Dirk Nowitski and Robert Garrett. American Eric Taylor (201-F-76, agency: Elfus-Siegel Management (ESM), college: St.Francis,PA) is a work horse from the bench and is averaging 6,8 points, 4,7 rebounds and 1,0 assists per game. Even though he didnt have a successful goodbye from Leverkusen, The Brose Baskets Bamberg gave him a clean slate to begin from with his signing. German Tim Ohlbrecht (211-C/F-88, agency: Pro One Sports) is averaging 5,3 points and 3,4 rebounds per game. He is the biggest German talent at the moment with ex NBA player Alexander Johnson parked in front of him. However the 20 year old German can gain valuable experience learning from him. Michael Jordan had a fine debut in Dusseldorf with three points, four rebounds and nine assists and a solid game in the cup against Gottingen with 13 points and seven assists. Especially the German veterans have made Jordan feel at home. 'Demond Greene and Robert Garrett have been my biggest supporters. I know what they can do and they know what I can do. There is a mutual respect between us', explained Michael Jordan.


Both THE DEUTSCHE BANK SKYLINERS and The Brose Baskets Bamberg Baskets are riding on a three game winning streak in the BBL, but Frankfurt rest at position five and The Brose Baskets Bamberg at position 10. This will be a very very interesting game not because both teams are undefeated since three weeks, but because The Brose Baskets Bamberg is starting to find their rhythm and have an extra weapon in Jordan. Frankfurt is playing very well, even without three top players. Their defense has been as fierce as a mother Lion protecting her babies the last games giving opponents nightmares. However The Brose Baskets Bamberg has a potent offense, which Frankfurt will need to annoy for 40 minutes. 'We cant let the fans influence the game and I am anticipating a strong game from center Greg Jenkins', added Pascal Roller. The duel Pascal Roller vs Michael Jordan will be worth the price of the ticket for any fan. 'I am looking forward to playing against Pascal Roller. My last memory was in Italy, where Pascal and Biella came back from 16 points and beat us(Cantu) with 1:30 minutes remaining. I hope that doesnt happen again', warned Michael Jordan. 'That comeback was a big highlight for me in Italy. We scored 46 points in that last quarter against Jordan and Cantu. Jordan knows the Bundesliga well and will be ready for us', warned Pascal Roller. Frankfurt wont only be extra motivated to win again in Brose Baskets Bamberg, but also will have a lot of added self confidence after the exciting win in Antalya.We know how good The Brose Baskets Bamberg has been the last years and respect that. 'It is always beneficial to stay close on the road. We will have to play tough and and just play our game and control the pace', warned Titus Ivory. 'We know that Frankfurt has a lot of weapons and our defense will have to play well. If we play hard, smart and together, then we will have good chances to win', said Michael Jordan. The Brose Baskets Bamberg host THE DEUTSCHE BANK SKYLINERS on Sunday November 16th at 17:00.




Jared Newson (196-G/F-84, agency: Pro One Sports, college: Tennessee-Martin)

Pearson and Callahan have trials in Bremerhaven - by Moritz Korff
Tyray Pearson (201-F-80, college: Iowa St.) and Craig Callahan (203-F-81, agency: Octagon, college: NC-Wilmington) are undergoing trials with Bundesliga club Eisbaeren Bremerhaven. Both players will work out with the Polar Bears in the next two weeks.
Pearson has two years of Bundesliga basketball under his belt, playing for Braunschweig in the 2005-06 season, before joining Bonn for the following year. In this past season the 28-year-old forward averaged 14.3 points and 8.8 rebounds (29 games) for C.B. Blanes Almeria of the Spanish third division (LEB Silver). Before Pearson took his game to Germany he dominated the Portuguese TMN league and was named the Eurobasket.com All-Portuguese League Player of the Year in 2004.
Callahan, the 2006 Eurobasket.com All-Czech Rep. League Player of the Year and three-time Czech Allstar, spent this past season in Spain as well. He appeared in 32 games for ACB side Ricoh Manresa and tallied 5 points and 2.1 rebounds per contest.

*****************************************************


Division B': Week no. 5 - Results and Scorers - by Chris Mammides
Amyntas Ikaroi Serron 69-63
Quarters: 19-18, 27-39, 53-53, 69-63.
Top Scorers:
Amyntas: Costas Vogiatzis (203-F-86) 18, Lazaridis 11
Ikaroi Serron: Pehlivanis 15, Asimakis 11, Topouzis 12

Komotini P.Faliro 110-72
Quarters: 33-18, 64-31, 87-50, 110-72.
Top Scorers:
Komotini: Stefanidis 14, Lehoudis 19, Koutsovasilis13, Gregory Ktistou (186-G-79, college: Carthage) 13, Veli 18
P. Faliro: Monemvasitis 20, Schortsianitis 12, Giannakakis 13

Halkida Ikaros Kallitheas. 71-77
Quarters: 22-17, 40-38, 50-57, 71-77.
Top Scorers:
Halkida: Pasalidis 18, Psaropoulos 12, Jeremic 13
Ikaros Kallitheas: Alexis Falekas (190-G-76) 19, Melas 15

Arkadikos - Sporting 92-78
Quarters: 26-24, 44-40, 67-58, 92-78.
Top Scorers:
Arkadikos: Giannis Manos (186-G-71) 32, Papanikolaou 16 and Manavopoulos 15
Sporting: Houmas 15, Tsopis 12, Vrinas 19 and Mastrokostopoulos 12

Anagennisi/Floga Pierikos Arhelaso 110-114
Quarters: 23-23, 46-45, 70-71, 90-90, 99-99(A OT.), 110-114.
Top Scorers:
Anagennis: Bourdanos 19, Zarogiannis 20, Spiropoulos 15, Touloumis 22 and Evangelinos 12
Pierikos Arhelaos: Giorgos Chrisanthopoulos (203-G-73) 34, Raptis 22, Nemanja Cuk (208-C-74) 22.

Doukas- OFI 81-92
Quarters: 24-28, 36-50, 60-69, 81-92.
Top Scorers:
Doukas: Rozolis 18, Papargiropoulos 15, Gavanopoulos 19, Galiotos 15
OFI: Barlas 11, Tselios 22, Tsakiridis 15 and Farmakis 15

Apollon Kalamarias AIAS Evosmou 93-88
Quarters: 17-18, 30-25, 54-46, 74-74, 93-88
Top scorers:
Apollon Kalamarias: Troulialis 24, Panagiotis Nanis (195-F/G-80) 30, Hatzatourov 11
AIAS Evosmou: Pete Kathopoulis (180-G, college: St.Joseph's) 25, Hatzidis 15, Souflias 18.

Lavrio - Goumenisa 91-65
Quarters: 15-17, 38-39, 57-51, 91-65.
Top scorers:
Lavrio: Trikaliotis 13, Giannakopoulos 25, Agapitos 10
Goumenissa: Dimitriou 16, Kogias 11

*****************************************************


Round 5, best five - by Tamas Deri
Point Guard: Alvin Cruz (186-G-82, agency: Paris Global Sports, college: Niagara), 23 points (7/10 2pts, 1/3 pts, 6/10 FTs), 5 assists, 4 fouls against, 3 rebounds, 2 steals, 37 minutes
Shooting Guard: Laszlo Cziczas (188-G-79), 19 points (1/2 2pt's, 5/7 3pt's, 2/2 FT's), 4 assists, 4 fouls against, 2 steals, 1 rebound, 27 minutes
Small Forward: Andrija Ciric (199-G-80, agency: Beo Basket), 26 points (4/6 2pts, 5/8 2pts, 3/3 FTs), 4 rebounds, 3 steals, 3 fouls against, 1 assist, 36 minutes
Powar Forward: Rashad Bell (201-F-82, college: Boston U.), 35 points (5/7 2pts, 6/11 3pts, 7/9 FTs), 4 rebounds, 2 assists, 2 fouls against, 2 steals, 1 block, 30 minutes
Center: Laszlo Orosz (207-C-71, agency: Laszlo Vinko Services), 28 points (13/17 2pt's, 2/4 FT's), 5 rebounds, 3 fouls against, 1 steal, 1 block, 40 minutes

Market news - by Tamas Deri
Jonathan Jones (211-C-79, agency: Elfus-Siegel Management (ESM)) arrived yesterday to Hungary and was already on the roster of his new team, Dombovar in the game against Szolnok, but did not play any minute. The 211 cm tall big man played already in China, Germany, Finland, Cyprus, Kuwait, Lebanon and started this season in the first division of Israel. He played two games for Ramat GAn and had good stats, 12.5 points and 6.5 rebounds per game. Some days ago he asked the team for his release and came to Hungary, where he will play with his ex-teammate (2006-07 Omonia Nicosia, Cyprus), Jerome LaGrange.

The newcomer team of the league DEKE signed two more americans for the rest of the season. 206 cm tall center Gary Ware (206-F/C-83, agency: Tank Sports, college: Purdue) started the last season in Finland with KTP but left and played 16 games for ETHA in Cyprus: 10.6ppg, 9.0rpg, 0.9bpg, 2FGP: 54.4%, FT: 52.3%.
Valentino Maxwell (-F) will be the new guard of the team. American player graduated on the University of Concordia (NCAA 3) in 2006, since than he played in some minor leagues.

Szolnok stoped Dombovar - by Tamas Deri
Szolnoki Olaj KK - Planet Leasing-Dombovar KC 87-61
(20-19, 23-14, 26-6, 18-22)
Szolnok, Att.: 2200, Referees: Dr. Pali, Peczely, Szabo V.
Szolnoki Olaj KK: Jerome Coleman (185-G-81, agency: CAA Sports, college: Rutgers) 16/9, Laszlo Cziczas (188-G-79) 19/15, Wilson 8/6, Jurkunas 8/6, Jamal Basit (206-C-78, agency: Rasmussen Services, college: Delaware) 11, Robert Gaal (188-G-89) 12/6, Cseh 4, Harazin 5, Szabo 4, Sonyak, Toth, Kovacs, Coach: Por Peter
Planet Leasing-Dombovar KC: LeGrange 2, Molnar 6, Clark 6, Bdi 8, Anthony Dill (200-F-81, college: Texas St.-San Marcos) 15, Szoke 12/3, Deak 11/9, Simon 1, Balogh, Vas, Coach: Peter Stahl

STATISTICS
2 POINTERS: 75% - 42%
3 POINTERS: 14/32 - 4/19
FREE THROWS: 9/10 - 17/21
Rebounds: 28 (Jurkunas 7) - 26 (Szoke, Dill 6-6)
Assists: 29 (Wilson 7) - 15 (LeGrange 7)
Steals: 16 (Jamal Basit, Harazin 3-3), - 15 (Bodi 4)
Blocks: 5 (Harazin 3) - 1 (Ivory)
Fouls: 22 - 16

*****************************************************


Standings - Superleague


Superleague Standings



*****************************************************


Shamrock Rovers ink Maurice Carter - by Gianni Pascucci
Experienced veteran Maurice Carter (191-G-74, college: Brandon) agreed to terms with Super League team Shamrock Rovers Hoops. Carter has USA and Irish passport, an can play in Ireland as a domestic player.

*****************************************************


Interperformances has placed 85% of its players - by John McMillen
We are proud to announce that Interperformances has placed 85% of its players this season and is working hard to find teams for the remaining 15 % of our people in the near future. Teams that are in need of a player will find a list of available players on our web site www.interpeformances.com Some of the outstanding players still available are Gregor Fucka (214-C-71), Romel Beck (203-G/F-82, college: UNLV), Vasil Evtimov (207-C/F-77, college: N.Carolina), Elvir Ovcina (212-F/C-76, college: Syracuse), Greg Davis (186-G-82, college: Troy), Oscar Yebra (200-F-74) Marko Verginella (202-F-78), Stallworth Shammell (197-F-80, college: USF), Rick Hughes (204-C/F-73, college: Thomas More), Eric Osmundson (196-G-83, college: Pennsylvania), A.J. Guyton (187-G-78, college: Indiana), Raheim Brown (208-F-79, college: Florida Atlantic) and Johnny Taylor (206-F-74, college: Chattanooga).

*****************************************************


FIBA Africa Zone-3 Qualifiers: Union Bank thrashes Energie 96-44 - by Olusegun Ikuesan


*****************************************************


Knights repeat as NBL champions - by Leonard Whyte
Defending champions, Urban Knights, are walking around today as back-to-back Kentucky Fried Chicken (KFC)/National basketball League (NBL) champions after last night's dramatic 62-61 victory over newcomers Port Royal Bulls at the National Stadium courts. In a game that featured 14 lead changes and nine ties, the champions were very fortunate to repeat as Bulls gave them more than they bargained for.

Destiny fulfilled
Knights dodged many bullets on their way to the title, including an overtime scare in game 2 of the series. After that game, many echoed the sentiment that 'Destiny' was on the champion's side, but they were made to fight for every single point to prove those observation true. They led after every quarter (16-11, 32-31, and 44-42) but the action throughout kept fans on the edge of their seats.

Whilby delivers
Bulls took a 61-60 lead in the fourth quarter on Dovian Wade's two free throws, leaving Knights with only 10.9 seconds to find a reply. They were bailed out, however, when Andrew Whilby was fouled in the paint with 4.9 seconds on the clock. With their season hanging in the balance, Whilby calmly stepped up to the line and buried both free throws to put the Knights back on top 62-61. The stage was now set for a dramatic ending but when Leighton Meeks potential game-winning shot missed the target, Knights and their fans erupted in a joyous celebration.

The winners were led by Javon Bailey with 18 points, but Whilby added a fine double-double (16 points and 12 rebounds), and Omar Barnes chipped-in with 10 points. For the unlucky Bulls, Wade scored a game-high 23 points and Damion Young also had a double-double (18 points and 12 rebounds).

*****************************************************


Tochigi makes a hasty yet clever move - by John Scribe


One of the numberous philosophies for the first-year JBL club Tochigi Brex is to become a strong team that will be loved by its fans. And the Brex are serious about it.
They followed through on their promise this week, but axing Head Coach Mitsuhiko Kato this week and replaced him with Tom Wiseman.

The Brex, one of two all-professional franchises in the JBL has a four year plan to win its first-ever Championship and thought that Kato would be the right man. However, after a rough 3-7 start and with the team deterioated due to communications problems, team GM Takashi Yamaya made a quick move to change things around. Many reasons are being speculated as to why there was a 'communication' problem.




One, is that Kato did not have any experience coaching above the Japanese high school level, and he struggled to create schemes that were applicable for the JBL. Another rumor is that fact that many players found his preseason practices extraordinarily hard and they were being burned out. A third reason seems to point to the fact that his top players just weren't responding to him because of lack of knowledge. However, when considering the JBL in the past, it would still be hasty to terminate a coach so early in the season.




This move by Tochigi is somewhat uncommon in the JBL side of Japanese top league basketball. Most coaches usually make it through the season without being fired. Better yet, players usually stay put. Imports may change, but domestic players doesn't move alot. Of course, mid-season firings have taken place n the past, but rarely. Players were mostly employees in the past and the company looked after the players. Similar to the traditional company code in which an employee spent all of his working years at one company.




However, last year's expansion team, Rera Kamuy Hokkaido really changed the culture when it cut close to three-fourths of its Japanese players following a 2007-2008 Season. Niigata, an ex-JBL club was professional, but wasn't so quick to pull the trigger when it came to shaking up the team. Head Coach Masaya Hirose is still coaching, despite three dismal sesaons at the JBL Super League level and falling short of winning the BJ League a couple of years. They are even rebuilding at the moment.




Coaching changes are relatively common in the BJ League, as teams are professionalized and obviously serious about winning for its fans. If not, they lose their fan base.




With such thihgs at risk, Tochigi fired star player, and 100,000,000 yen man, PG Yuta Tabuse's high school coach. The coach who brought the national hero back to Japan. And now they have placed long time mastermind assistant Tom Wiseman at the helm. Politics would suggest that this is a bold, yet risky move. But it is clever.




Wiseman is a winner. He has won a plethora of titles at Isuzu and have been advisor who's led JOMO back to its rightful place atop women's basketball. He can relate in Japanese or have a rapport with his imports. Better yet, he has been successful and he doesn't have to worry about the politics and be the mastermind while his superior takes the credit. This may have opened the eyes of basketball front offices throughout the league. But most above all, every team now knows that Tochigi is serious and they are ready to make noise, today.



*****************************************************


LBL D2 Round: 11 (Regular Season) - by Eurobasket News
BA Riga - Zemgale/Juniors 74-87
Zemgale/Juniors opened Round 11 on November 10th with a road win over BA Riga 74:87. Tramdaks Edgars paced all the winners with 25 points and Justovics Andris netted 18. Dukulis Edmunds ended up with 21 points for the hosts.

Saldus - ASK/Juniors 83-91
ASK/Juniors improved to 7-2 on top after 91:83 over Saldus. Mediss Kristaps shied with 31 points for the visiotrs as Butjankovs Artjoms added 15. Buikis Edgars posted 18 points for the hosts.

LU/Ridzene - Livani 78-84
Gargazins Gatis posted 24 points and Baranovskis Maris scored 23 as Livani celebrated a road victory over LU/Ridzene 78:84. Zeidaks Kristers produced 22 points in defeat and Karlis Haralds had 20.

Keizarm.U21 - Valmiera U21 70-78
Valmiera U21 closed the winning run of the guests on November 12th beating Keizarmezs U21 78:70. Strelis Aigars finished the night with 24 points and 12 rebounds. Kravalis Armands notched 26 points and made 8 boards in the losing effort.

Jurmala - Ventsp.Aug. 98-74
Jurmala enjoyed 98:74 over Ventspils Aug. as Meijers Martins was unstoppable with 23 points and 14 rebounds. Mikus Sokolovs nailed 21 points for the guests and Kristaps Kanbergs scored 16.

Zemgale/Juniors - Keizarm.U21 87-67
Zemgale/Juniors overcame Keizarmezs U21 87:67 for 4-4 record. Tramdaks Edgars led the winners with 18 points and 10 rebounds, while Justovics Andris collected 16 points and 10 rebounds. Oskars Rusmanis ended up with 19 points and 7 rebounds in defeat.



*****************************************************


Results from Day 2 of the Hariri Tournament - by Asia-Basket Lebanon
In the 2nd day of the 18th Hariri International Tournament , 3 games were played .
In the first game Al Ahly scored its second win , this time was against Mouharak on the score of 84-46.
Ahli didnt had any problems in having a very dominated game from its first minutes .

In the second game Motahed last year Lebanese League Finalist suffered a surprise first loss against Sporting from Egypt on the score of 70-74 .The Egyptians had the lead from the first minute of the game , Motahed had a big comeback in the second half of the game and tied it and had the chance to win it but Mazen Mneimneh came short in his last shot .

In the last game of the day Blue Stars managed to score its first win against Al Riyadi from Jordan , The Team from Jordan had a good first hald when they had the lead throughout all the first twenty minutes .In the second half Blue Stars regrouped and started to impose their game minute after minute through William Byrd who had a very good second half , Blue Stars finished the game with e very deserving win on the score of 61-53.

*****************************************************


Roster adjustments in LKL - by Lukas Zajancauskas
Aisciai Kaunas signed former NCAA player Laimis Kisielius (203-F-85).

He played in William&Marry team, averaged 11.3 points, 3.4 rebounds and 2.5 assists per game. One of his main achievments is a silver medal with Lithuanian U-20 NT in 2005.

Techasas Panevezys is also strenghtening their team. They signed 22 year old guard Laimonas Lukosevicius (197-G/F-86)

In the off-season he had agreed with Siauliai, but Laimonas played only in two games and didn't scored any points.

*****************************************************


Black Star(4-2) takes it on the chin as Contern(3-3) wins its third straight with Defensive effort! Sparta(5-1) moves back to DBBL top as they bump Etzella(3-3) back to 5th place! - by Alex Meyers


Saturday, November 8, 2008

Sparta 74 - Etzella 68

Bertrange, Luxembourg
Sparta's defense forced too many Etzella turnovers last Saturday night in Bertrange and this time the rivalry between Etzella and Sparta was won by the home team. Sparta played steady throughout out-rebounding and out playing their smaller visitors most of the match. The scoring was fairly balanced in this team effort from Sparta, who dominated inside around the basket! Larrie Smith (195-F-75, college: Tennessee Tech) and Christian Wulff played 40 minutes each scoring 21 and 10 points respectively. Julian Hublart also had 10 and Xavier Engel 11. Fabio Palumbo played well taking 12 rebounds, blocking 2 shots shile scoring 8 for the near double-double and Pit hoffman also grabbed 10 rebounds and blocked 2 shots. Tom Wagner is still in rehabilitation for Sparta, who will play next at Amicale on Saturday, November 15th. Nelson DelGado led all scorers with 25 points. Marcus Kennedy (193-F-84, college: Montevallo) had a double-double with 17 points and 14 rebounds but committed 10 costly turnovers according to the stats. Tim Giver added 16 for Etzella who has lost three in a row after a 3-0 start. Etzella gets a break this weekend as they must face Residence(1-5) at home on Sunday, November 16th. Etzella was missing key players Jairo DelGado, Jim Garganese and Raphael Albaladejo.





Sparta: 22 field goals, 4 three pointers, 22 for 34 free throws, 38 ebounds, 20 fouls and 9 turnovers
Wulff 10, Smith 21, Engel 11, De Marchi 8, Hublart 10, also Palumbo 8 and Hoffmann 7
De Marchi 37' fouled out
Etzella: 23 field goals, 6 three pointers, 16 for 23 free throws, 24 rebounds, 25 fouls and 17 turnovers

N. DelGado 25, E. Ferreira 2, Benseghir 4, Giver 16, Kennedy 17, also Wiesenbach 4, Kerger, Jacoby and Ittenbach

Score by quarters: 1st Q 21-19, Halftime 39-34, 3rd Q 57-56, Final 74-68
230 Spectators




Contern 79 - Black Star 60


Contern, Luxembourg

Black Star dropped to 4-2 as they lost their second match of the season at the hands of a Contern team who has found its rhythm and has momentum. The home squad played well and won with defense, holding Patrick Arbaut scoreless for nearly 36 minutes of play. Arbaut averages nearly 11 points per game. This was a huge plus for Contern and the main reason they won. Contern also kept Black Star away from the free throw line. Brandon Gary (202-F-83, college: Hutchinson JC) was the main man for Contern with 29 points and 12 rebounds. Eric Jeitz scored 17 and dished for 3 assits before fouling out with 4 minutes remaining. Ken Diederich added 10 points and Gilles Becker played well with 9 points 6 assists and 4 steals. Contern will travel to Heffingen on Saturday, November 15th. Billy McDaniel (201-F/C-84, agency: 540 Sports, college: Ark.-Monticello) played a good game again for Black Star with 19 points and 13 rebounds. Dan Norell and Tom Becker had 10 each for Black Star who now must face Musel Pikes at home also on Saturday night.

Contern: 27 field goals, 9 three pointers, 16 for 22 free throws, 36 rebounds 16 fouls and 11 turnovers
Becker 9, Fasbender, Gary 29, Jeitz 17, Diederich 10, also Gindt 2, Torres 3, Bissener 2 and Braun 7. Jeitz 36' fouled out
Black Star: 25 field goals, 5 three pointers, 5 for 9 free throws, 36 rebounds, 16 fouls and 16 turnovers
Pa. Arbaut, McDaniel 19, Hoffmann 3, Tuffel 9, Becker 10, also Muepu, Di Bartholomeo, Ph. Arbaut 3, Y. Arbaut 6, Weckering and Norell 10

Score by quarters: 1st Q 16-14, Halftime 36-27, 3rd Q 63-40, Final 79-60
330 Spectators



Racing(2-4) gives Heffingen their 6th loss. Amicale sneeks past T71 despite Whitworth's 38 point performance! Musel Pikes handles Residence! - by Alex Meyers
Saturday, November 8, 2008

Heffingen 58 - Racing 82

Heffingen, Luxembourg
Heffingen dropped to dead last place in the DBBL at 0-6 at the hands of coach Toni Ostojic and his Racing team. The first three quarters were dominated by Racing last Saturday night in Heffingen. Racing's Jordan Brady (198-F-83) was the scoring leader with 28 points. He also grabbed 18 rebounds, added 2 steals and 2 assists. Three other Racing players reached double figures: Dave Schroeder 18, Jol Pires 13, and Vincent Wynandt had 10. Racing was hot from the field shooting 28 for 44 which is 64% but need to improve at the free throw line where they struggled at 8 for 18(45%). Racing is still missing Steve Klose and Eric Grand. Heffingen's players are struggling in scoring with American import Jay Anderson (206-F-81, college: Oregon) the only one to reach double figures while taking 11 rebounds. Chris Zender played his best match of the young season for Heffingen scoring 8 points while taking 10 rebounds in less than 26 minutes. Heffingen, who was playing without Daniel Weyrich, will play host to Contern, and T71 will visit Racing this Saturday, November 8th.

Heffingen: 22 field goals, 6three pointers, 8 for 17 free throws, 31 rebounds, 18 fouls and 13 turnovers
J. Thesen 6, Anderson 18, Scholtus 6, Hetto, C. Weyrich 8, also Zender 8, Feltes 7, Schumacher 3 and K. Thesen 2
Scholtus 38' fouled out.
Racing: 34 field goals, 6 three pointers, 8 for 18 free throws, 41 rebounds, 15 fouls and 11 turnovers
Weynandt 10, Schroeder 18, Brady 26, Pires 13, Haas 3, also Weber, Schmit 8, Hochmuth 2, Groos and Rodenbourg

Score by quarters: 1st Q 14-23, Halftime 28-44, 3rd Q 38-66, Final 58-82
60 Spectators


Amicale 80 - T71 78

Steinsel, Luxembourg
Amicale needed the home win over visiting T71 to remain tied for third place in the DBBL with Black Star sharing equal 4-2 win/loss records. T71's first five minutes cost them the match as they were held to only 8 points. The vistors came back and cut the lead to only 1 point by the quarter's end. T71 had a few bad spells leading to Amicale's momenttum swings in the 2nd period as the home team was able to go into half still up by 8. The 3rd and 4th stanzas belonged to T71, but they ran out of time, cutting the lead to only 2 points at the end of the match. Coach Johnny Griffin had three players step it up in scoring with Travis DePree (201-F/C, college: Albion) leading the way with 22 points and 18 big rebounds. DePree added 3 assists, 4 steals and a blocked shots. Chris Scholtes added 17, and Christian Schartz 10(6 assists). Tim Whitworth (198-G/F-81, agency: Court Side, college: Drexel) was phenominal for the visitors leading all DBBL scorers for the weekend with 38 points. Martin Rajniak had 16. The rest of T71's squad did not produce much. T71 will go to Racing and Amicale must host Sparta on Saturday, November 15th.

Amicale: 31 field goals, 5 three pointers, 13 for 15 free throws, 35 rebounds, 17 fouls and 11 turnovers
Haan 9, DePree 22, Schartz 10, Scholtes 17, Ney 9, Jones 7, also Haan 9, Birenbaum 6, Gillardin, Rausch and Kartheiser
Unsportsmanlike foul 40' Scholtes
T71: 31 field goals, 5 three pointers, 11 for 13 free throws, 23 rebounds, 15 fouls and 10 turnovers
Whitworth 38, Ruffato 9, Kieffer 4, Rajniak 16, siebenbour 2, also Kostur, Keller 4, Bemtgen 5 and Abreu

Score by Quarters: 1st Q 22-21, Halftime 47-39, 3rd Q 64-55, Final 80-78
406 spectators


Residence 67 - Musel Pikes 81

Walferdange, Luxembourg
Residence lost at home to Musel Pikes, who regain the first place in the DBBL tied with Sparta with identical 5-1 records.
Three of Coach Frank Baum's players had huge nights offensively. Laurent Schwartz scored 23, Guy Scmit and Samy Picard 21 points each and Christopher Braier (195-F-84, agency: Rasmussen Services, college: Lawrence) 10 points and 14 rebounds. Residence dug itself into a huge hole in the first period giving up 33 points. During the middle two quarters, Residence played better. Matthew Hall (198-F-84, agency: Scorers 1st Sportmanagement, college: Harding) scored 32 points and Pit Koster 11 for Residence. Musel Pikes went on a few good runs in the fourth to gain momentum and the eventual 14 point victory. Unfortunately for Residence, they must face Etzella on the road Sunday, November 16th. Etzella is coming off a loss to Sparta and will be fine tuned ot get back on the winning track next week. Musel Pikes will face Black Star in the DBBL game of the week in Mersch on saturday, November 8th.

Residence: 25 field goals, 8 three pointers, 9 for 13 free throws, 28 rebounds, 18 fouls and 9 turnovers
F. Mangen 4, Hall 32, Koster 11, Abdiu 6, Leschek, also Julien 1, S. Mangen 3, Kayser, Hemmen 3 and Felten 7
Musel Pikes: 31 field goals, 10 three pointers, 8 for 21 free throws, 33 rebounds, 13 fouls and 7 turnovers
Schwartz 23, G. Scmit 21, Braier 10, Picard 21, Schmitz 4, also C. Schmit 2 and Dentzer


score by Quarters: 1st Q 19-33, Halftime 36-44, 3rd Q 54-61, Final 67-81
200 Spectators

Standings - Nationale 2


N2 Standings

Scoring Leaders - DBBL
Stats Leaders
Points Per Game
1 Hall, Residence 32.0
2 Whitworth, T71 28.6
3 DelGado, N., Etz. 26.
4 Brady, Racing 26.
5 McDaniel, B.Star 25.6
6 Smith, Sparta, 24.8
7 Anderson, J Heff. 24.3
8 Kennedy, Etzella 23.6
9 Rajniak, T71 20.3
10 Gary, B. Cont. 20.3



*****************************************************


Embajadores Aztecas - Mexicans abroad - by Kristian Santiago


Here is a quick run down on Mexicanos around the globe playing pro ball:

NBA:
Eduardo Najera (202-F-76, college: Oklahoma) is getting only very limited time off the bench with the New Jersey Nets.
It may have been a bad decision to move east for the veteran forward as he get only around eight minutes per game to contribute to the team's success.
The Nets are currently in last place in the Atlantic Divison, so it might not be the best place to continue his career.

Earl Watson (185-G-79, college: UCLA) is getting a lot of playing time in Oklahoma City but recently stated that he wished to be traded to another team as he is not happy with his current role.
Watson is currently putting up 8,1 points per game and 5,9 assists per game. The Oklahoma City Thunder is dead last in the Pacific Divison with only one win and seven defeats.

Spain:
Christopher Hernandez (188-G-83, agency: Octagon, college: Stanford) is getting better each game regarding his scoring output and scored recently season-high 17 points against Leche Rio Breogan in the LEB Oro, Spain's second division. The Stanford-product is currently averaging 8,4 points per game for the ninth placed Valladolidians.

Japan:
Adam Parada (213-C-81, agency: Octagon, college: Cal-Irvine) is having a productive time in Japan where he plays for the Mitsubishi Diamond Dolphins and averages 12,9 ppg and 6,6 rpg in the JBL.

The Mitsubishi Diamond Dolphins is now in sixth place of eight teams, so it does not look good though for Parada's team these days...

Croatia:
Romel Beck (203-G/F-82, agency: Interperformances, college: UNLV) is still signed to KK Zadar as he has a guaranteed contract, so it will be interesting how KK Zadar and beck are solving the situation so Beck can play elsewhere and KK Zadar may save some money.

Switzerland:
Veteran Manuel Raga (199-F-73, college: Cal Poly - SLO) is back for another season with SAV Vacallo Basket in the LNA.Playing now for years in Switzerland, the forward does the little things right and is currently averaging 2,8 points for SAV who won all games so far and are in first place early in this season.



*****************************************************


Hornets Night comes to The Barn on Monday night November 13, 2008 - by Richard
NEW ORLEANS The Xavier (LA) of Louisiana men's basketball program and the New Orleans Hornets are teaming up for a sponsored home game next week.
It will be Hornets Night at The Barn when the Gold Rush plays Philander Smith at 6 p.m. on Monday, November 17.
Hugo, members of the Honeybees dance team and the Hornets Drumline are scheduled to entertain during the game. There will be contests and a T-shirt toss during timeouts, and the Honeybees will be available at halftime for autographs in the lobby of The Barn.
'We are excited and honored that the New Orleans Hornets are a sponsor of Gold Rush basketball,' said Xavier coach Dannton Jackson. 'Hornets Night will be a fun night for our fans.'
Hornets Night will be the latest chapter in Xavier's relationship with the NBA franchise. The Hornets contributed $5,000 in 2007 to the university's scholarship fund. And this past summer Jackson was director of the Hornets Summer Hoops Clinic.
Xavier is 3-0 and No. 19 in the Victory Sports Network NAIA Division I preseason ranking. The Gold Rush seeks a fifth consecutive appearance which would extend a school record in the Buffalo Funds-NAIA Division I National Championship at Kansas City, Mo. Xavier's 25 seasons of 20 or more victories are the most in the history of Louisiana collegiate men's basketball.

*****************************************************


NBA Round: 16 (Regular Season) - by Eurobasket News
Knicks - Grizzlies 132-103
The team of head coach Mike D'Antoni destroyed Memphis Grizzlies at the FedExForum jumping on 5-3. Wilson Chandler netted 27 while Jamal Crawford had 2 points less. Rudy Gay contributed with 20 points in defeat. His Grizzlies slipped on 3-6.

Spurs - Bucks 78-82
Milwaukee Bucks escaped with a tiny home victory vs San Antionio moving up on 4-5. Richard Jefferson netted 19 points and grabbed 9 rebounds for the winners. Tim Duncan delivered 24 points for the Spurs, which still miss Tony Parker and Emanuel Ginobili (2-5).

Lakers - Hornets 93-86
Los Angeles Lakers remained perfect after 7 games. This time Kobe Bryant and his teammates were better than the Hornets in New Orleans Arena. Kobe and Derek Fisher scored 20 points apiece for the winners. Chris Paul posted 30 points for the loosing side.

Magic - Thunder 109-92
Triple-double by Dwight Howard (30 pts, 19 rebs and 10 blocked shots) for the 5th win of Orlando Magic. P.J. Carlesimo and his players stay on just one joy in 8 games. Jeff Green was better than the others in defeat with 25 points and 10 boards.

Jazz - Wizards 87-95
Caron Butler shined for the Wizards leading it to first victory this season (1-5). He scored 27 points and missed only one board for double-double. Carlos Boozer netted 20 points and pulled down 7 rebounds for the Jazz (6-2).

Kings - Clippers 103-98
4-5 for the Kings and 1-7 for the Clippers after this game. Beno Udrih was the central figure of the match netting 30 points, including 5 rebounds and 7 assists. Al Thornton top-scored in defeat with 20 points.

Rockets - Suns 94-82
Road win for Houston, the fifth one this season (5-3). Tracy McGrady was hero of the game delivering 27 points and pulling down 5 rebounds. Leandrinho Barbosa and Shaquille O'Neal scored 18 points apiece for the Suns (6-3).

76ers - Raptors 106-96
Third win for the 76ers in 8 appearances thanks to Elton Brand and his 25 points and 8 boards. Chris Bosh once again was great for the Raptors collecting 30 points and 12 rebs (4-4).

Hawks - Celtics 102-103
Paul Pierce was a clutch player of the game for the reigning champion bringing it the eighth win this season (8-1). He drained a buzzer beater jumper having 34 points in total. Kevin Garnett helped with 25 points 12 boards. It was a first defeat for the Hawks, despite 28 points and 7 assists by Joe Johnson.

Trail Blazers - Heat 104-96
Miami Heat faced with 4th failure this season despite amazing Dwayne Wade, who had 36 points, 6 rebounds and 8 assists for 37 minutes. Spanish star Rudy Fernandez shined for the Trail Blazers with 25 points. His team currently has 5-3.

Pacers - Nets 98-87
Indiana was better than New Jersey on the road improving its score on 4-3. On the other side, Nets dropped on 2-5. T.J. Ford was close to triple-double for the winners adding 18 points, 8 rebounds and 9 assists. The hosts got 28 points and 7 assists from Vince Carter.



Jerry Colangelo new chairman of USA basketball - by Bruno Baltazar
Jerry Colangelo, who assembled the U.S. team that won the Olympic men's basketball gold medal, was elected Wednesday as chairman of USA Basketball's Board of Directors for the 2009-12 term.
Colangelo spent the last three years as the managing director of the senior national team, implementing a program with a three-year commitment that culminated with the Americans' victory over Spain in the gold medal game in Beijing. The American men hadn't won a major gold medal since the 2000 Olympics.

'I'm honored to have this opportunity and I look forward to serving USA Basketball over the next four years,' Colangelo said in a statement. 'There's a great legacy at USA Basketball and my goal is to continue to grow our game on every level.'


Kirk Hinrich can be sidelined with a injury for 3 months - by Bruno Baltazar
Chicago Bulls guard Kirk Hinrich (6'3''-G-81, agency: Octagon, college: Kansas) had surgery to repair a torn ligament in his right thumb and could be out for three months.
Dr. John Fernandez and Dr. Mark Cohen of Rush University Medical Center performed the operation Tuesday.

Hinrich was hurt last Friday night in Chicago's 100-83 victory over Phoenix when he tried to knock the ball away from the Suns' Amare Stoudemire.

The Bulls' first-round pick in 2003 out of Kansas, Hinrich has appeared in six games and averaged 8.3 points this season.

Curriculum Vitale - How to polish your pro-basketball resume - by Eurobasket


One of the perks of being a pro athlete, you would think, is that you don't have to maintain a rsum. I'm guessing that Kobe Bryant (6'6''-G-78) has never suffered the indignity of typing up an 'Honors & Awards' section or had to remember to put the good paper in the laser printer before running off a dozen copies of his CV. But not every athlete is Kobe Bryant. Let's assume you're a ballplayer on the fringesyou graduated from a college that's better known for honing academic credentials than frontcourt fundamentals, or maybe you didn't play college basketball at all. I've got bad news for you, friend: You're going to have to update that rsumand quick.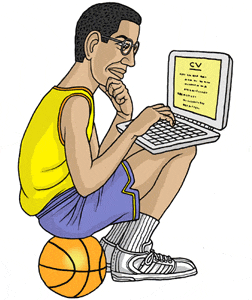 As the NBA season gets under way and the league pulls back the curtain for its brightest stars, a lot of lesser-lights get pink slips. Many of these players look to take their game overseas, where an online rsum is a requirement if you want to land an on-court job. While the NBA is a self-contained circuit, the European leagues and those beyond are sprawling, often loosely connected organizations. Out on the pro-basketball frontier, teams with wildly disparate budgets search for talent across dozens of countries. It makes sense, then, that basketball's talent marketplace has evolved into something like a combination of Monster.com and Match.com, with a healthy dose of Craigslist-style unruliness.

It doesn't matter whether you're a 15-year-old Bulgarian looking for a team or an American former first-round NBA draft pickit's time to start social networking. The first step is to get an agent. If you're not a college stud who caught the gaze of a European superagent, there are plenty of workaday representatives to choose from. Many agencies specialize in a certain type of player: Global Sports Plaza, for example, touts itself as 'the first Macedonian-American based' agency. It's the agent's job not only to whisper in the ear of potential employers but also to jam their inboxes with your credentials.

One reason for the proliferation of the online resume is speed. Coaches and general managers are under pressure to make decisions fast, and these tight deadlines mean that expediency - can you hop on the train from Brussels to Berlin in an hour? - can be as important as talent. John Patrick , the head coach and general manager of BG 74 Goettingen, a team in Germany's top league, maintains a database of players he's monitoring and also 'spot checks' the 10 to 20 unsolicited player resumes he gets in his inbox daily. If Patrick is sufficiently interested, he'll double back to check stats, watch game tape, make phone calls to past coaches, and (depending on time and resources) go to see the player in person.

While the hoops CV serves more as a trailer than the full picture, it's still important to make yourself stand out in a sea of 7-footers. If you're at the top of the basketball matchmaking pool, then your Web presence is most likely a reminder that you are alive, don't weigh 300 pounds, and do, in fact, still play basketball. Former NBA-er Lamond Murray (6'7''-F-73, agency: Interperformances, college: California)'s CV, for instance, stresses that he 'is still only 34 years old, injury free, and in excellent shape.'

Those of us who aren't former first-round picks need to craft a fuller picture. While a glamorous college pedigree and gaudy stats may get you a second look, there are other variables, like the ability to cope with a new culture, that are just as crucial when making the leap overseas. It's just as important to 'explain who you are,' Patrick says. 'Explain your successes on and off the court.'

If you're looking for a model, you could do worse than copying off Gabriel Hughes, an out-of-work center from Cal-Berkeley who's now represented by the Dutch agency Court Side. Along with his height, weight, and stats, Hughes' resume includes a link to a personal highlight reel - team execs look at online video to uncover non-numerical details like gimpy knees, a poor attitude, or third-rate competition - as well as a 300-word personal statement that recaps his professional highs and lows. 'Big men take longer to develop and Gabriel Hughes is a prime example of this axiom,' the promotional copy begins. More rationalizations quickly follow: 'He got a 6-figure contract last season to play for Al-Wasl in Saudi Arabia. While the money was good, Hughes had his season shortened by injury (and the one foreigner on the court rule did not help his stats as he had to share playing time with the other American on the team).' After getting the negatives out of the way, Hughes' CV focuses on the bright spots: 'For a 7-footer, Gabe runs the floor well, has leaping ability, good hands and doesn't mind contact. He also has mental toughness, having survived some of the roughest/dirtiest play. Hughes has always been able to rebound, having led the leagues in Japan and Ireland in rebounding.' And in conclusion: 'He plays hard and hustles. A family man, he has an excellent attitude on and off the court.'

... Read full text at http://www.slate.com/id/2204182

Courtesy of By Elliot Hannon of Slate.com



*****************************************************


Choctaws Defeat Division I Alcorn State, 85-81 - by Moritz Korff
The Mississippi College men's basketball team opened the 2008-09 season with an 85-81 exhibition win over Division I Alcorn State on Monday night at the Davey L. Whitney Complex.

The Braves held a 40-39 halftime lead and extended the advantage to six with about 10 minutes remaining. The Choctaws used a 58.1% shooting percentage in the second half to come back and pull out the win.

Senior guard Michael Penson scored 16 points, including 10 in a row in the final two minutes to put MC ahead. Senior forward Richard Worthy knocked down two free throws with 4.7 second remaining to give the Choctaws the final four-point advantage. Worthy finished the game with 11 points and eight rebounds.

Junior Cordero Bowen (13 pts.), senior Clarence Jeffery (10 pts.), and junior Chazz Hawkins (10 pts.) also scored in double-figures for the Choctaws. Junior Christian Marshall scored nine points, four of which came in the final 30 seconds.

Troy Jackson led the way for Alcorn State with 29 points on 11-21 shooting from the floor. JaMarcus Holt picked up a double-double with 11 points and 11 rebounds.

The Choctaws finished the night shooting 47.7% from the floor, including 9-22 from the three-point line. MC was solid at the free-throw line, knocking down 14-19 foul shots.

Alcorn State shot 41.7% from the floor and only hit 5-21 from behind the arc.

The Choctaws open the regular season at the Sewanee Invitational against Rust College on November 22nd at 1:00 p.m. in Sewanee, TN.

Courtesy of http://www.gochoctaws.com

*****************************************************


FIBA Africa Zone-3 Qualifiers: Union Bank thrashes Energie 96-44 - by Olusegun Ikuesan


*****************************************************


RP NATIONAL TEAM - by Benny Lirio


RP coach: Yeng Guiao




1. Ranidel de Ocampo 6'6 F
2. JayJay Helterbrand 6'0 G
3. Gabe Norwood 6'5 GF
4. Mick Pennisi, 6'9 FC
5. Kerby Raymundo 6'6 F
6. James Yap 6'2 F
7. Asi Taulava. 6'10 C
8. Cyrus Baguio, 6'0 G
9. Jared Dilinger, 6'5 G
10. Arwind Santos 6'4 GF
11. Ryan Reyes 6'0 G
12. Sonny Thoss 6'8 CF
13. Kelly Williams 6'6 GF
14. Wilie Miller 6'0 G
15. Japeth Aguilar (206-F/C)*** 6'10 F /Reserved





*****************************************************


DBE Round: 10 (Regular Season) - by Eurobasket News
Atlas Stal - Polpharma 96-86
Atlas Stal defeated Polpharma 96:86 in Round 10 of DBE. Daniels Alan led the winners with 30 points and 7 rebounds. Rivera Carlos posted 18 and Jovanovic Nikola added 17. Coleman Eric ended up with 20 points in the losing effort.

Turow - Znicz J. 113-90
Turow stun Znicz 113:90 to improve to 7-2 in the standings. Miljkovic Damir had a great night with 27 points, 3 assists and 2 borads. Four players reached double digits in defeat as Celej Tomasz and Miszczuk Marek were on top with 18 points each.

En.Czarni - Kotwica 66-62
Energa Czarni overcame Kotwica 66:62 at home on November 11th. Straight Jason paced all te winners with 18 points, while Cesnauskis Mantas scored 14. Mills Julien ended up with 13 points in defeat.

Sportino I. - AZS Koszalin 64-66
AZS Koszalin was the only team on November 11th to win away from home. Sportino tried hard but lost 64:66. Reese George top-scored for the winners with 17 points, whilst Miller Eddie nailed 19 points for the hosts.



*****************************************************


Harvey Thomas and Willie Taylor are no longer Vitoria Guimaraes players - by Bruno Baltazar
Vitoria announced two of their americans are no longer in the team and possibily they will be looking for new players in the market.
Vitoria is not doing a good league for what they expected before the season ,right now they 4-3 in the league and they looking to improve.
Harvey Thomas (204-F-82, college: Baylor) is a 6'9 forward and Willie Taylor (194-G-81, college: Va Commonwealth) a tall guard that can do some different positions on the floor as he is 6'5.Now Vitoria only has 1 american on their roster,Donte Minter (203-F-84, college: Virginia) that is showing to be a good professional and a good player.

Manuel Sico competed in the most important youth tournament in Spain - by Bruno Baltazar
Manuel Sico (202-F/C-88),the portuguese player that competes for Barreirense/Unilogos competed in the past days in the most important youth teams tournament in Spain(under20 ACB circuit),its a tournament focused in showing some good young players in Spain and the portuguese player was invited to play in this tournament due to his good european under 20 that played this past summer where spanish scouts were interested to see more about him ,he played for the spanish side of CB Breogan (Fundacion Balogal) where former Barreirense player Joao Gomes plays now.

In the first game his team won against Cajasol 53-47 and he scored 5 points ,4 rebonds and 1 assist ,but the best was yet to come the next day where he scored 9 points,10 rebounds,was the best player for his team but they lost againt CB Valladolid for 62-87,in the last of his 3 games they lost the game again to CB Gran Canaria (63-75) and he scored 6 points, 9 rebounds and 1 assist ,showing once again a good aitute to fight in the rebounds area ,it was a global good exibition for the portuguese player that leaves him with some hopes to his future that seems to be a bright future.
More to come and fallow in the portuguese league.

*****************************************************


Transaction Market News - by Bogdan Bocaniala
U Mobitelco keeps Steve Rich (208-C-72, agency: Global Sports Plaza, college: Miami, FL)
American post Steve Rich will be legitimate at U Mobitelco.
'We decided together with the Technical Staff to keep him in the team. Steve Rich can help us with his experience under the ring. Knowing also that Glintic and Kinsell absent. What is available at this time of the transfer market, Rich seems the best solution for us. If he will face our championship, than probably he will remain below the team. Now, we took advantage of the replacement players rule which we have right, 'said executive president Mircea Cristescu.

New coach at BC Mures
After the resignation of coach Mihai Corui , BC Mures is looking for a replacement.
Thus the club submitted a bid Horia Rotaru coach to take over the team.
An answer about bringing 'Roti' will be Friday when he will decide whether to accept or no the offer from the club.

*****************************************************


A League Round: 8 (Regular Season) - by Eurobasket News
Ergonom - Napredak 96-78
Ergonom had an easy job against Napredak Rubin at home, thus both teams are currently at the same score 5-3. Slavisa Bogavac delevered 24 points and grabbed 7 rebounds for the winners. Veteran Dragan Markovic netted 21 for the loosing side.

Radnicki 034 - Tamis 92-80
Radincki 034 was better than Tamis mostly owing to Rajko Kljajevic and his 29 points and 9 rebounds. It was the fifth win for Radnicki so far. Tamis got 20 points and 6 rebs from Sasa Mihajlovic (2-6).

Zdravlje - Vizura 84-71
Very important home victory for Zdravlje. Marko Janjusevic was its best player with 24 points. Aleksandar Vlahovic top-scored for the visiting team with 18 points. Both squads are on 2-6 now.

Mega HL - Sloga 87-75
Hot prospect Stefan Stojacic once again shined for Mega Hypo Leasing pacing it to fourth victory in A league. This time he stopped on 20 points and 4 rebounds for 33 minutes. Bojan Petrovic and Sasa Stefanovic scored 14 points apiece for Sloga, who remains on the bottom of the standings with 1-7.

Novi Sad - Radnicki I. 89-79
2-6 for Novi Sad and 3-5 for Radnicki after this round. Nenad Tomasevic and Goran Martinic drained 17 points each for the hosts. Andjelko Mandic had 25 pts in defeat.

Masinac - Borac 66-80
Borac cruised past Masinac on the road keeping the perfect record after 8 rounds. Rastko Dramicanin was a key player in his team adding 16 points and 6 rebounds. Masinac also got 16 points but with 11 boards from Uros Mirkovic dropping on 2-6.

Metalac - Swiss.Lions 85-88
Great win for Swisslion Takovo, who handed the first loss to Metalac this season. Swisslion remains on top of A league together with Borac thanks to Radovan Markovic and Branko Jorovic, which combined 39 points and 10 rebounds. Nikola Micevic was good in defeat registering 20 points and 7 rebs.



*****************************************************


Prievidza catch up with Levice on top - by Eurobasket News
Prievidza secured the 9th win in the season and reached the league leading Levice in the standings. Both teams are now tied at 9-2 record. Prievizda overcame Kosice 112:86 at home court and capitalized on Levices loss to Nitra.
Prievidza took on Kosice at home court and the game was not an easy ride for the hosts. Kosice got to an aggressive start and built a 31:27 lead at the first break. Prievidza struggled to adjust and found themselves trailing by 8 points at halftime. However the home side recovered after the long break. They stepped on the gas and rolled to a 3-point advantage before the fourth quarter. Kosice collapsed in the fourth quarter and Prievidza cruised to the victory at the end. Greg Immink (178-G-83, college: Hope (MI)) knocked down 24 points for Prievidza. Daniel Boor (197-F-79) came up with 19 points for the winners. Michal Bartka knocked down 27 points to pace Kosice.
Nitra pretty easily defeated Levice 86:59 at home court. Leading at every change Nitra rolled to the eighth victory in the season. Stanislav Votroubek (213-C-81) notched 23 points to lead Nitra. Lubos Pohanka (190-G-77) added 17 points in the winning case. Marko Samanovic (206-C-85) answered with 18 points for Levice in the losing effort.

Stats Leaders - D1


Extraliga Stats Leaders
Points Per Game
1. Polakovic, Inter 25.7
2. Ingles, Poprad 23.2
3 Batka, Kosice 21.1
4. Majoros, Komarno 20.8
5. Williams,Pezinok 20.2

Rebounds Per Game
1. Szalay Prievidza 8.0
2. Pesta SNV 7.9
3. Skara Bystrica 7.9
4. Klatik, Handlova 7.8
5. Batka, Kosice 7.5

Assists Per Game
1. Lawrence Nitra 7.5
2. Williams,Pezinok 7.0
3. Milosevic, Levice 5.6
4. Micka, Inter 5.5
5. Ingles, Poprad 4.9

2FGP
1. Jurik Komrno 57.9
2. Hovanak, Bystrica 56.5
3. Praznovsky Pop 54.2
3FGP
1. Haimes, Levice 59.1
2. Hill Nitra 57.7
3. Kozar, SNV 57.1

Free Throws
1. Misinsky, SNV 96.0
2. Savovic, Dolny 95.7
3. Milosevic, Levice 90.3



*****************************************************


Thriller win for Fenerbahce vs Union Olimpija - by Eurobasket News
Fenerbahce Ulker - Union Olimpija 89-87

Fenerbahce Ulker needed two over times to beat Slovenian champion Union Olimpija in 'Abdi Ipekci'. With this victory Fenerbahce jumped on 3-1 in Group C, while exactly the same score have Tau Ceramica and Lottomatica Roma. Slovenians demonstrated pretty good performance, but they will have to wait for some other chance in order to grab the first win this season.
Opening quarter belonged to Fener 24-17 while Olimpija answered in the next one 19-25. Slovenian Emir Preldzic (206-F-87, agency: Beo Basket) was in a game mood for Fener getting a big help from Savas Oguz and Mirsad Turkcan (206-F-76). Mostly owing to them, the hosts entered into the last 10 minutes with solid 62-56. Olimpija didn't want to give up and after wild triple by Saso Ozbolt (188-G-81, agency: World Sport Agency) tied the score on 73-73 with 13 seconds to go in regular time. Fener had the last possession but Devin Smith (196-G/F-81, college: Virginia) missed a 3-pointer at the buzzer. Different picture was seen on the floor in the first over time as Olimpija was the team which had the last chance to score. PG Vlado Ilievski (190-G-80, agency: World Sport Agency) grabbed the ball with 6.5 seconds remaining but he did not find Damjan Rudez (207-F-86) on time to take a shot. Teams went into another 5 minutes. At the very end, actually with 10.7 seconds to go, Devin Smith made a second free throw for 89-87 after what Vlado Ilievski missed a running shot at the buzzer.
Emir Preldzic top-scored for Fener with 18 points at the same time collecting 7 more rebounds and 5 assists. Oguz Savas (208-C-87) netted 15 while Mursad Turkcan registered double-double, 14 points and 11 rebs. Olimpija got 22 from Vlado Ilievski and two points less from Saso Ozbolt.

Fenerbahce Ulker: Emir Preldzic 18+7 boards+5 as, Oguz Savas 15, Mirsad Turkcan 14+11 boards
Union Olimpija: Vlado Ilievski 22, Saso Ozbolt 20+4 boards, Miha Zupan (206-F/C-82) 10+12 boards

Helios scored just 49 points, coach Mijanovic ejected - by Zeljko Zule
Zlatorog easily defetaed Helios without injured Ali Berdiel and illness Uros Lucic, 63-49, in the opening game of Round 7. Zlatorog never trailed after an early 11-0 run and led as many as 17 points in the middle of the second quarter. Ante Masic scored 22 points, Nejc Strnad added 21, Milos Miljkovic grabbed 15 rebounds and Salih Nuhanovic had 8 points, 7 rebounds and 3 blocks for Zlatorog who used just six players. Helios was outrebounded 22-37 and coach Radomir Mijanovic was ejected in last quarter when he came onto the floor to argue with referees. Vjekoslav Petrovic netted 13 points and Alexei Lashhkevich 10.
Krka is still the only undefeated team in the league following an 81-67 road win over Alpos. Davor Marcelic scored 16 points, Smiljan Pavic 12 and Marko Rakocevic and Bojan Krivec 11 apiece. Alpos trailed by 26 points late in third period. Armin Avdibegovic posted 17 points and Takis Brown 14.

*****************************************************


Interperformances has placed 85% of its players - by John McMillen
We are proud to announce that Interperformances has placed 85% of its players this season and is working hard to find teams for the remaining 15 % of our people in the near future. Teams that are in need of a player will find a list of available players on our web site www.interpeformances.com Some of the outstanding players still available are Gregor Fucka (214-C-71), Romel Beck (203-G/F-82, college: UNLV), Vasil Evtimov (207-C/F-77, college: N.Carolina), Elvir Ovcina (212-F/C-76, college: Syracuse), Greg Davis (186-G-82, college: Troy), Oscar Yebra (200-F-74) Marko Verginella (202-F-78), Stallworth Shammell (197-F-80, college: USF), Rick Hughes (204-C/F-73, college: Thomas More), Eric Osmundson (196-G-83, college: Pennsylvania), A.J. Guyton (187-G-78, college: Indiana), Raheim Brown (208-F-79, college: Florida Atlantic) and Johnny Taylor (206-F-74, college: Chattanooga).

*****************************************************


Academie Fribourg hand Bernex the first loss in LNB - by Eurobasket News
Academie Fribourg snapped Bernex winning streak beating the LNB leaders 96:75 at home court. The hosts built an unassailable 29-point lead at halftime and eased to the victory at the end. Alex Zimnickas (203-F-83, college: Hartford) led the charge with 24 points and 12 boards. Brian Savoy (191-G-92, agency: Regeneracom Sports) contributed 18 points for the winners. Matthieu NDong answered with 17 points and 11 boards for Bernex. Babacar Toure (205-F/C-85) and Phillipe Jean had 11 points each in the loss.
Vevey secured the fourth win in the season as they held off Villars 77:66 at home. Villars led by a single point at the first intermission but failed to develop the success. Vevey used a 22:10 rally in the fourth quarter to ensure an impressive victory at the end. Cedric Losada (193-G/F-79) came up with 22 points for the winners. Herb Johnson (209-C-62, college: Tulsa) finished with 9 points, 17 boards and 8 assists for Vevey. JoJo Chambers (198-F-73, college: Christopher Newport) replied with 20 points and 11 rebounds for Villars as they slipped at 2-4 record.
Martigny improved to 3-3 record as they pulled away with an 85:75 road victory over Vernier. Martigny lagged behind 35:36 at the interval but stormed in front 27:12 in the third quarter and rolled to a comfortable win at the end. David Michellod (178-G-83) and Rodrigue Maza (203-F/C-91) fired 27 points apiece for Martigny. Antoine Grandjean (188-G/F-88) had 20 points for Vernier.

Stats Leaders - LNB


LNB Stats Leaders
Points Per Game
1. Anthony, Luzern 25.8
2. Chambers, VER 25.7
3. Dosic, KOR Z 23.8
4. McCormick, Pully 22.7
5. Fischer, MAR 19.7
Rebounds Per Game
1. Chambers, VER 12.2
2. Johnson, Vevey 11.8
3. Toure, Bernex 11.3
4. McCormick, Pully 9.7
5. Zidi, Chene 9.5
Assists Per Game
1. Gothuey, CHN 6.7
2. Johnson, Vevey 6.0
3. Petkovic, FRI 4.3
4. Grandjean, VER 4.3
5. Chambers, VER 4.2
Ranking
1. Chambers, VER 29.2
2. Dosic, KOR Z 26.7
3. Anthony, Luzern 24.2
4. Toure, Bernex 23.8
5. McCormick, Pully 20.8
*****************************************************
Standings - TB2L
TB2L Standings


Thriller win for Fenerbahce vs Union Olimpija - by Eurobasket News
Fenerbahce Ulker - Union Olimpija 89-87

Fenerbahce Ulker needed two over times to beat Slovenian champion Union Olimpija in 'Abdi Ipekci'. With this victory Fenerbahce jumped on 3-1 in Group C, while exactly the same score have Tau Ceramica and Lottomatica Roma. Slovenians demonstrated pretty good performance, but they will have to wait for some other chance in order to grab the first win this season.
Opening quarter belonged to Fener 24-17 while Olimpija answered in the next one 19-25. Slovenian Emir Preldzic (206-F-87, agency: Beo Basket) was in a game mood for Fener getting a big help from Savas Oguz and Mirsad Turkcan (206-F-76). Mostly owing to them, the hosts entered into the last 10 minutes with solid 62-56. Olimpija didn't want to give up and after wild triple by Saso Ozbolt (188-G-81, agency: World Sport Agency) tied the score on 73-73 with 13 seconds to go in regular time. Fener had the last possession but Devin Smith (196-G/F-81, college: Virginia) missed a 3-pointer at the buzzer. Different picture was seen on the floor in the first over time as Olimpija was the team which had the last chance to score. PG Vlado Ilievski (190-G-80, agency: World Sport Agency) grabbed the ball with 6.5 seconds remaining but he did not find Damjan Rudez (207-F-86) on time to take a shot. Teams went into another 5 minutes. At the very end, actually with 10.7 seconds to go, Devin Smith made a second free throw for 89-87 after what Vlado Ilievski missed a running shot at the buzzer.
Emir Preldzic top-scored for Fener with 18 points at the same time collecting 7 more rebounds and 5 assists. Oguz Savas (208-C-87) netted 15 while Mursad Turkcan registered double-double, 14 points and 11 rebs. Olimpija got 22 from Vlado Ilievski and two points less from Saso Ozbolt.

Fenerbahce Ulker: Emir Preldzic 18+7 boards+5 as, Oguz Savas 15, Mirsad Turkcan 14+11 boards
Union Olimpija: Vlado Ilievski 22, Saso Ozbolt 20+4 boards, Miha Zupan (206-F/C-82) 10+12 boards

*****************************************************


Flournoy Expects Tough Test - by Andy Webb
Newcastle Eagles player-coach Fabulous Flournoy expects a tough game when Jelson Homes DMU Leicester Riders arrive at the at the Newcastle Arena.

Riders are a lot better than last year, and I dont think that Rob [Paternostro] has been given enough credit for what hes achieved so far. Theyre catching teams off guard, and theyve been in all their games until the end. Even the losses have been by a couple of points. Theyre not an easy team to play against, they are getting a lot of scoring from Matt Martin and although the big guy needs a bit of time to adjust, they are doing well. Tony Windless is coming off the bench, and showing what a great veteran he is.

Despite his sides fine start to the season, Riders coach Paternostro rates his sides trip to Newcastle as their toughest game of the season: Going up there is a really difficult task. Theyre the most talented team in the league, theyve got a nucleus of players who have won things before and itll be a real challenge for us. Were a new team, and we have to play against the best side in the country.

Eagles title rivals Everton Tigers are also in action on Friday evening when they host newcomers Worthing Thunder as they look to continue their good start to the season.

Tigers go into the game as one of three sides who have only one BBL Championship loss this season, while Thunder have found life tough going in their debut season in the competition, and are one of the bottom of the table with two wins from seven games.

Everton coach Tony Garbelotto believes he has a reasonable knowledge of the Thunder team: My assistant watched them play at Newcastle on Friday evening, and I probably know more about their English players than most coaches as I watched them a few times last season as my nephew Rob [Newson] was coaching them. Ive seen Ryan Patten a few times as well, and I know he poses a threat.

The difficult thing is knowing which Worthing Thunder team will turn up. Will it be the one which beat Sharks and Jets, or the one who were hammered at Newcastle.

Worthing coach Gary Smith knows that his team will face a tough test on Merseyside: Everton has probably the deepest team in the league this year with cover at every position. Tony has them playing well together.

*****************************************************


LNB Semifinals - Gameday 1: Duros and Caciques victorious - by Francisco Vega


Barquisimeto, Venezuela.- Duros de Lara defeated Estudiantes de Guarico in Gameday 1 of the LNB 2008 Semifinals while playing at a temporary home, the UCLA dome. Meanwhile, Caciques de Trujillo surprised Centauros de Apure as visitors and took a huge first step towards advancing to their first ever LNB Finals.




SCOREBOARDS




SEMIFINALS (Duros leads 1-0)




Duros de Lara 94 - Estudiantes de Guarico 81 (Wed)

UCLA Dome - Barquisimeto, Lara




Quarter by quarter

DUR: 20-23-25-26= 94

EST: 19-15-21-26= 81




Scorers

DUR: Amber Marin (208-C-81) 16 points, Carlos Cedeno (193-G/F-85) 14 points, Lawrence Wallace (183-G-81) 13 points, Francisco Centeno (201-G/F-85) 10 points, Keving Palacios (203-F/C-84) 9 points, Kenji Urdaneta (188-G-85) 8 points, Francisco Sanabria (190-G-77) 7 points, Jesus Centeno (190-G-85) 6 points, Peter Kvietek (203-C-77) 6 points, Jackson Zapata (198-F-85) 4 points, Carlos Quintero (202-F-85) 0 points, Heissler Guillent (191-G-86) 0 points

EST: David Ruffin (193-G/F-84) 18 points, Jhoyfer Diaz (196-F-87) 14 points, Derwin Ramirez (191-F-82) 14 points, Victor David Diaz (195-F-68) 11 points, Luis Julio (199-F-80) 8 points, Randy Vazquez (190-G-78) 7 points, Jose Martinez (196-F-82) 6 points, Carlos Guatache (192-G/F-85) 2 points, Deivis Aranguren (192-F-85) 1 point, Leonardo Cappare (186-G-80) 0 points, Vladimir Saavedra (200-F-77) 0 points, Harold Guatache 0 points



SEMIFINALS (Caciques leads 1-0)




Caciques de Trujillo 99 - Centauros de Apure 83 (Wed)

Biruaca Dome - Biruaca, Apure




Quarter by quarter

APU: 19-21-20-23= 83

CAC: 30-25-26-18= 99




Scorers

APU: Lennox McCoy (188-G-77) 13 points, Elvis Montero (193-G-78) 11 points

CAC: Michael Flores (192-G-85) 29 points, Edgar Arteaga (198-F-76) 14 points





*****************************************************


Women News

*****************************************************


Dexia Namur stay untamed in D1 - by Eurobasket News
Dexia Namur made it six wins in as many games defeating Monceau 92:84 in the seventh round. Spirou Monceau kept it close in the starting quarter but Dexia built a 2-point lead at the first break. Dexia Namur maintained the lead throughout the rest of the encounter and hold on to win the game at the end. Marjorie Carpreaux (165-G-87, agency: LBM Management) nailed 27 points to pace Dexia Namur. Oksana Agabalova (186-F-73) contributed 21 points and 10 rebounds for the winners. Ophelie Thibaut (168-g-82) answered with 19 points for Spirou Monceau in the loss.
Meanwhile Sint Kateline remained on top of the standings as they posted the seventh victory in the season. They cruised past BBC Ieper 102:52. Jana Raman (183-F-91) scored 24 points for Sint Kateline. Renee Hendrickx (172-F-88) contributed 19 points and 12 rebounds in the winning case. Ann Plasman (188-C-83) replied with 12 points in the losing effort.
Waregem held off Novia Namur 68:48 to improve at 5-1 record. Waregem piled up a 24:7 lead after the starting frame and never looked back again. Nele Deyaert (186-F-79) scored 14 points for Waregem. Tamara Van Respaille (186-C-77) netted 13 points in the win. Simona Nicolae (188-C-74) knocked down 14 points in defeat.

*****************************************************


Gran Canaria roll to the initial win in EuroCup - by Eurobasket News
Gran Canaria - Gospic 66:63

Gran Canaria narrowly defeated Gospic at home court to celebrate the first win in the EuroCup preliminary round. Thus Gran Canaria improved at 1-3 record in Pool F, while sending their opponents to 2-2 record. The first term proved to be decisive in the encounter as the hosts managed to limit Gospic to only 8 points and built a 7-point lead. Gran Canaria opened the game with 10:0 run and secured a 15:8 advantage after ten minutes of action. Adrijana Knezevic (184-F-87) and Tiina Sten (185-G/F-85, college: St.John's) teamed up for 14 points in the second quarter and Gran Canaria stretched the margin to 9 points at halftime. However the game was far from being done. Marija Vrsaljko (195-C-89) and Jelena Ivezic (184-G-84) dragged Gospic back into the contest. They cut the distance to 4 points and then Elbele and Jelena Ivezic capped the frame with 5 points to make it just 46:48 for the hosts. Back-to-back trebles from Jelena Ivezic allowed Gospic to draw things level at 52 early in the fourth quarter. Eva Montesdeoca (198-C-81), Adrijana Knezevic and Tiina Sten pulled Gran Canaria back in charge 64:59 with just over a minute remaining. Jelena Ivezic did not surrender and scored 4 straight points for the visitors to reignite the intrigue. But Adrijana Knezevic silenced Gospic with accurate freebies.
Adrijana Knezevic finished the game with 21 points for Gran Canaria. Tiina Sten added 20 points and 7 rebounds for the winners. Jelena Ivezic was impressive with game-high 30 points for Gospic. Lamisha Augustine (186-F-82, agency: LBM Management, college: San Jose St.) contributed 11 points and 8 rebounds in the loss.

Gran Canaria: Adrijana Knezevic 21, Tiina Sten 20, Naomi Halman (191-F/C-86, agency: Regeneracom Sports, college: Cal-Irvine) 7
Gospic: Jelena Ivezic 30, Lamisha Augustine 11

Valdemoro's Ros Casares grabs the victory in Croatia - by Eurobasket News
Jolly JBS Sibenik - Ros Casares 72:83

Sibenik and Ros Casares struggled for the third win in EuroLeague Group C as the latter posted 72:83 road win. Amaya Valdemoro (184-F-76) led the winners with 24 points and 5 assists. Elisa Aguilar (178-G-76, college: George Washington) netted 13 and Brazilian Erika De Souza (197-C-82) scored 12. Kerri Gardin (186-F-84, agency: Regeneracom Sports, college: Virginia Tech) and Ivana Jurcevic (174-G-81) ended up with 20 points apiece for the home side.
Vesela with a jump-shot opened the game for the guests as later they made it 12:6. Erika De Souza brought 17:9, while Gardin closed the first at 19:11. In the second period Ros Casares pushed the tempo and enjoyed the double digits. Montanana posted 2 for 31:16 and Erika De Souza made 37:18. Cakic closed the first half for 37:20 as Spanish team looked forward for the second half.
Jolly JBS Sibenik brought the intrigue back to the court after 24-20 in the third frame. Aguilar still remained the visitors in front at 57:44 closing the third period. In the last stanza Terglav-Tratsiak pulled the hosts to 57:67 and Kerri Gardin made it 60:69. Amaya Valdemoro and Elisa Aguilar kept the advantage for the guests as Ros Casares posted 72:83 road win. Ros Casares is 3-2 while Sibenik fell at 2-3.

Jolly JBS Sibenik: Kerri Gardin 20,Ivana Jurcevic 20
Ros Casares: Amaya Valdemoro 24 points and 5 assists, Elisa Aguilar 13, Erika De Souza 12

*****************************************************


Lotos outscores USK Prague at home - by Eurobasket News
Lotos PKO BP -USK Prague 71:57

Lotos PKO BP beat USK Prague for the second win in Euroleague Group C campaign. The Polish side celebrated 71:57 win at home to improve to 2-3. Ivana Matovic (197-C-83) led the winners with 18 points and 6 rebounds. Ekaterina Snytsina (188-F-85) nailed 11, while Emilja Podrug (190-C-79) and Alana Beard (180-G/F-82, college: Duke) posted 10 each. Lindsay Whalen (173-G-82, college: Minnesota) ended up with 21 points in defeat, while Le Drean and Evanthia Maltsi (180-F-78) had 8 each. USK Prague dropped to 1-4 and covers the bottom of the group.
Lotos PKO BP started very well and Marchanka's three closed 7-0 run from the hosts. Le Drean pulled her team to 9:7, but Ivana Matovic made it 15:9 in the middle of the first. Alana Beard closed the opening quarter at 23:11. The hosts continued to dictate the game in the second quarter and reached 18 points deficit at the halftime. Alana Beard made the second free throw for 44:26 closing the first half.
In the third frame the teams paid more attention to defense and USK Prague managed to take 13-10 win. Ivana Matovic's lay-up made it 54:39 after thirty minutes of the game. With another 18-17 victory in the last period the team from Czech Republic reduced to 71:57 as the teams finished the game.

Lotos PKO BP: Ivana Matovic 18+6 rebs, Ekaterina Snytsina 11, Emilja Podrug 10+10 rebs, Alana Beard 10
USK Prague: Lindsay Whalen 21, Le Drean 8, Evanthia Maltsi 8

*****************************************************


Standings


Eurocup Standings



Preliminary Round. Day 4 - by Eurobasket News


Group A

MBK Ruzomberok - AZS Gorzow 91-81

MBK Ruzomberok finally made it in EuroCup this season. After three consecutive defeats, Ruza managed to beat AZS Gorzow mostly owing to

Tye'sha Fluker

(196-C-84, college:

Tennessee

), who demonstrated wonderful performance. She spent 32 minutes on the court collecting 25 points, 6 boards and 4 assists.

Simona Podesvova

(186-F-83) also shined for the winners adding 15 points and 8 rebs while

Megan Duffy

(170-G-84, agency:

LBM Management

, college:

Notre Dame

) helped with 13 points and 5 rebs.

Katerina Zohnova

(179-F-84, agency:

Promotex

) was totally the best player for the loosing side netting 26 points.

Lindsay Taylor

(203-C-81, college:

UCSB

) contributed with 15 points and 7 boards.

MBK Ruzomberok opened this game with the strong willingness to resolve question about the winner as soon as possible.

Tye'sha Fluker

was in a game mood and it resulted with great 29-13 already in the first quarter. AZS Gorzow didn't want to give up creating 16-25 during the following ten minutes. However, it was enough only for minus 7 at the half time. Second half was almost leveled. Visitors tried to come closer even more but MBK Ruzomberok each time answered with few successful possessions. Actually the hosts extended its lead even more in third frame 27-24. Last ten minutes ended 19-19 meaning that Ruza celebrated decent 10-point win. Both teams have the same score now 1-3.

MBK Ruzomberok: Tye'sha Fluker

25+6 boards+4 as,

Simona Podesvova

15+8 boards,

Megan Duffy

13+5 boards

AZS Gorzow: Katerina Zohnova

26+4 as,

Lindsay Taylor

15+7 boards

*

*

Group B

Sf. Gheorghe - Dynamo Kursk 70-64

Sf. Gheorghe was better than Dynamo Kursk at home thus both teams are on 2-2 now. The only undefeated squad in Group B is Challes, who plays its Round 4 game tomorrow.

Sf. Gheorghe had two very motivated players today and it was more than enough for the victory. The first one is

Ildiko Vass

(178-G-78), who top-scored for the winners with 17 points.

Judit Kajdacsi

(191-C-79, agency:

Laszlo Vinko Services

) is the second one and she actually was totally the best player of this game. Kajdacsi spent almost the entire time on the floor netting 12 points and pulling down amazing 23 rebounds. 12 of those were at the offensive end.

Varvara Psareva

(194-C-85) shined for Dynamo Kursk adding 14 points and 8 rebounds.

Irena Vizbariene

(196-F/C-77) had 13 pts plus 9 rebs while

Anastasia Bocharova

(180-F-77) contributed with 11 points.

After 24-23 in the first quarter, Sf. Gheorghe put into the fifth gear during the next period 22-13. The hosts succeeded to set the margin on 12 points at the end of third quarter but they somehow stopped after that. Dynamo intensified defense letting Sf. Gheorghe to score just 5 points in the last frame. However, visitors also weren't so productive in offense stopping on 11 pts, what was not enough for any closer than 6 points. Sf. Gheorghe will meet Bnot Hasharon in the next round. Dynamo waits Challes.

Sf. Gheorghe: Ildiko Vass

17,

Judit Kajdacsi

12+23 boards

Dynamo Kursk: Varvara Psareva

14+8 boards,

Irena Vizbariene

13+9 boards,

Anastasia Bocharova

11

*

*

Group D

Neuchatel - Szeged 52:74


Szeged secured a cruising victory over Neuchatel to stay unbeaten in the EuroCup Group D. Neuchatel fell to 2-2 record after the loss.

Olena Zherzherunova

(191-F-78, agency:

LBM Management

) paced Szeged with 18 points and 10 rebounds.

Bernadett Nemeth

(173-G-80) added 15 points, while

Ildiko Szakacs

(187-F-81) and

Desire Almind

(180-F-82, agency:

LBM Management

, college:

Bucknell

) added 14 points each in the win.

Cameo Hicks

(178-G-84, agency:

LBM Management

, college:

Washington

) responded with 18 points for the Swiss team.

Emily Florence

(165-G-85, college:

Washington

) had 9 points in the loss. More than 1000 spectators gathered to watch Group D leaders clash. The first term was quite leveled battle with neither side able to clear off substantially. The visitors finally prevailed in the battle of defenses piling up a 15:12 lead at the first break. The defense was the main accent in the second term. Szeged once again succeeded as they limited the hosts to just 9 points and stretched the gap to as many as 9 points at halftime.

Neuchatel seemed to find the right offensive tempo in the third frame but still struggled defensively and conceded 28 points as Szeged extended the margin to 21 points before the fourth term. The hosts never recovered in the fourth term and Szeged eased to the fourth victory in the tournament.

Neuchatel will next take on the Solna Vikings away from home. Szeged will face Foton on the road in the Hungarian derby.

Neuchatel

:

Cameo Hicks

18,

Emily Florence

9,

Katalin Kurtosi

(193-C-81, agency:

LBM Management

, college:

St.John's

) 9

Szeged

:

Olena Zherzherunova

18+10 boards,

Bernadett Nemeth

15,

Ildiko Szakacs

14,

Desire Almind

14

*

*

Group E

Athinaikos BC - Panionios G.S.S. 73-56

In the game between two Greek teams, Athinaikos BC celebrated against Panionios G.S.S. jumping on 4-0 in Group F.

LaToya Davis

(186-F/C-84, college:

Texas Tech

) shined for the hosts netting 20 points and pulling down 8 rebounds.

Polymnia Sarekgou

(185-G-72) helped with 15 points while

Katie Gearlds

(186-G/F-84, college:

Purdue

) stopped on 10.

Sheri Lynette Sam

(183-F/G-74, agency:

Ronsport

, college:

Vanderbilt

) led the scorers in Panionios G.S.S. with 16 points.

Lori Nero

(188-F/C-80, agency:

Merit Sports

, college:

Louisville

) had 3 points less than her. Their team dropped on 1-3.

However, at the very beginning it seemed that Panionios G.S.S. will take this one.

Sheri Lynette Sam

and her teammates took care for 4-10 and later 14-22. Until the end of the first stanza Athinaikos succeeded to close the gap on 4 points with mini 4-0 run. The hosts were much better in third frame. After 33-30, Athinaikos made magnificent 15-0 run. Panionios was not able to recover of it until the end of the game. Athinaikos had nice third quarter touching plus 20 in 30th minute. Final period belonged to visitors, but they needed a way more than 13-15.

Athinaikos BC: LaToya Davis

20+8 boards,

Polymnia Sarekgou

15+4 boards,

Katie Gearlds

10

Panionios G.S.S: Sheri Lynette Sam

16+6 boards,

Lori Nero

13+5 boards

*

*

Group F

Gran Canaria - Gospic 66:63

Gran Canaria narrowly defeated Gospic at home court to celebrate the first win in the EuroCup preliminary round. Thus Gran Canaria improved at 1-3 record in Pool F, while sending their opponents to 2-2 record. The first term proved to be decisive in the encounter as the hosts managed to limit Gospic to only 8 points and built a 7-point lead. Gran Canaria opened the game with 10:0 run and secured a 15:8 advantage after ten minutes of action.

Adrijana Knezevic

(184-F-87) and

Tiina Sten

(185-G/F-85, college:

St.John's

) teamed up for 14 points in the second quarter and Gran Canaria stretched the margin to 9 points at halftime. However the game was far from being done.

Marija Vrsaljko

(195-C-89) and

Jelena Ivezic

(184-G-84) dragged Gospic back into the contest. They cut the distance to 4 points and then Elbele and

Jelena Ivezic

capped the frame with 5 points to make it just 46:48 for the hosts. Back-to-back trebles from

Jelena Ivezic

allowed Gospic to draw things level at 52 early in the fourth quarter.

Eva Montesdeoca

(198-C-81),

Adrijana Knezevic

and

Tiina Sten

pulled Gran Canaria back in charge 64:59 with just over a minute remaining.

Jelena Ivezic

did not surrender and scored 4 straight points for the visitors to reignite the intrigue. But

Adrijana Knezevic

silenced Gospic with accurate freebies.

Adrijana Knezevic

finished the game with 21 points for Gran Canaria.

Tiina Sten

added 20 points and 7 rebounds for the winners.

Jelena Ivezic

was impressive with game-high 30 points for Gospic.

Lamisha Augustine

(186-F-82, agency:

LBM Management

, college:

San Jose St.

) contributed 11 points and 8 rebounds in the loss.

Gran Canaria

:

Adrijana Knezevic

21,

Tiina Sten

20,

Naomi Halman

(191-F/C-86, agency:

Regeneracom Sports

, college:

Cal-Irvine

) 7

Gospic

:

Jelena Ivezic

30,

Lamisha Augustine

11

*

*

Group G

Galatasaray - ZKK Buducnost 85-57

Galatasaray trashed ZKK Buducnost at home staying perfect after 4 games in Group G. Montenegrin representative will have to look for some other chance in order to celebrate the first win.

The hosts controlled rhythm of the game from the early beginning. Actually, Buducnost managed to stay close in the first quarter (23-19) but during the next one Galatasaray demonstrated its real power.

Marina Kress

(193-F/C-80) was unstoppable at the offensive end leading her team to plus 15 at the half time. Nothing has changed after that. Galatasaray's defense once again was on a pretty good level resulting with just 10 points by the visiting team in third quarter.

Marina Kress

and her teammates drained 20 entering into the last 10 minutes with huge lead, 63-38. The rest of the game was just a formality.

Marina Kress

was central figure of this match as she played 34 minutes pouring in 22 points and grabbing 14 boards. At the same time Kress dished out 6 assists.

Yasemen Saylar

(174-G-90) also was on a decent level collecting 16 points and 5 assists.

Korel Engin

(200-C-80) helped the winners with 14 pts plus 8 boards. ZKK Buducnost got 18 points from

Maja Milutinovic

(176-G-87) and she was the only one with double digits in scoring for Montenegrin representative.

Galatasaray: Marina Kress

22+14 rebs+6 as,

Yasemen Saylar

16+5 as,

Korel Engin

14+8 boards

ZKK Buducnost: Maja Milutinovic

18

*

*

Group J



Eurocup Round: 4 (Preliminary Round) - by Eurobasket News
Targoviste - Dynamo M. 50-58
Dynamo Moscow outplayed CSM Targoviste remaining perfect in Group A with 4-0. Marina Kuzina top-scored for the winners with 13 points and 6 boards. Anete Jekabsone-Zogota helped with 12 points and 6 rebounds while Belinda Snell stopped on 11 pts plus 7 rebs. Irina Crasnoscioc and Monika Boriga scored 13 points apiece for the loosing side. Their team dropped on 2-2.

Ramla - Dunav 80-70
Ramla was better than Bulgarian champion Dunav Econt mostly owing to Nicky Anosike and her 27 points and 11 boards. Zornitza Kostova scored 17 points for the visitors. Ramla now has 4-0 while Dunav remains winless yet.

Challes - Bnot Hash. 66-72
Bnot Hasharon surprised Challes in France handing it the first loss in Group B. At the same time it was the first joy for the Israeli team in 4 appearances. Charde Houstn was central figure of this game as she drained 31 points and grabbed 10 rebounds for 33 minutes. Challes got 16 points from Carly WIlson.

Crvena Zv. - Rivas Ecopolis 51-80
Rivas Ecopolis blasted Crvena Zvezda in Belgrade jumping on 3-1 in Group C. Franciele Nascimiento registered double-double in the visiting team, 18 points and 10 boards. Rankica Sarenac followed adding 16 pts and 5 rebs. Nina Bogicevic contributed with 11 points in defeat (1-3).

San Jose - Ragusa 71-66
3-1 for San Jose and 0-4 for Ragusa in Group E after this game. Eshaya Murphy delivered 20 points and grabbed 8 rebounds for the hosts. Matea Vrdoljak shined in Ragusa scoring 18 points, but her team needed a way more in order to celebrate the first one this season.

Taranto - AEL 77-60
Comfortable victory for Taranto, the third one in Group F. Megan Mahoney netted 23 points for Italian representative missing only one board for double-double. Shyra Ely and Azra Becirovic scored 12 points apiece for AEL, who now has 2-2.

Aris H. - Mondeville 53-59
Mondeville made in Greece moving up in Group G on 2-2. On the other side, Aris Holargos slipped at the same record. Lenae Williams led the winners scoring 20 points. Interesting is that Naura El Gargati pulled down 19 rebounds for Mondeville but with just 4 points. Theoni Tzegiannaki posted 14 points for Aris.

Esperides - Zeljeznicar 94-51
Esperides didnít have to work very hard in order to beat Zeljeznicar. It is the third win for the Greek team while Bosnians still didnít have any reason for a joy. Dimitra Kalentzou shined for the winners registering 22 points, 6 rebounds and 8 assists. Sasa Cadjo netted 12 in Zeljeznicar.

Extrugasa - Ribera 81-67
Ribera demonstrated wonderful performance in Spain celebrating the third victory in Pool J. Megan Moody and Jami Montagnino delivered 15 points each for the Italian team. The hosts lost this one despite great Tamera Young and Sara Gomez, which combined 47 points.

AD Vagos - Hemofarm 64-70
Hemofarm STADA outsmarted AD Vagos on the road thanks to center Dara Kovacevic, who nailed 16 points and grabbed 11 boards. Tamara Radocaj followed with 15 points. Fernanda Neves Beling had double-double in defeat, 21 points and 10 rebs. Her team is winless yet.

Dexia - BC Star 84-40
4-0 for Dexia Namuer and 0-4 for BC Star in Group L. Stephanie Dubuc led the scorers in Dexia netting 18 points. Pauline Akonga Nsimbo helped collecting 14 points and 13 rebounds. Jana Rannaveski contributed with 12 points in this devastating defeat.

EBE Ibiza-PDV - ICIM Arad 95-68
EBE Ibiza destroyed ICIM Arad at home thanks to Sandra Pirsic and Silvia Morales, which combined 36 points and 10 rebounds. Arad got 24 points and 10 boards from Suzana Milovanovic. The hosts stays perfect in Group H while Arad remains winless.

MBK Ruz. - AZS Gorzow 91-81
MBK Ruzomberok finally made it in EuroCup this season. After three consecutive defeats, Ruza managed to beat AZS Gorzow mostly owing to Tye'sha Fluker, who demonstrated wonderful performance. She spent 32 minutes on the court collecting 25 points, 6 boards and 4 assists. Simona Podesvova also shined for the winners adding 15 points and 8 rebs while Megan Duffy helped with 13 points and 5 rebs. Katerina Zohnova was totally the best player for the loosing side netting 26 points. Lindsay Taylor contributed with 15 points and 7 boards. Both teams have the same score now 1-3.

Sf.Gheorghe - Dynamo K. 70-64
Sf. Gheorghe was better than Dynamo Kursk at home thus both teams are on 2-2 now. Sf. Gheorghe had two very motivated players and it was more than enough for the victory. The first one is Ildiko Vass, who top-scored for the winners with 17 points. Judit Kajdacsi is the second one and she actually was totally the best player of this game. Kajdacsi spent almost the entire time on the floor netting 12 points and pulling down amazing 23 rebounds. 12 of those were at the offensive end. Varvara Psareva shined for Dynamo Kursk adding 14 points and 8 rebounds. Irena Vizbariene had 13 pts plus 9 rebs while Anastasia Bocharova contributed with 11 points.

U.Neuchatel - Szeged 52-74
Szeged secured a cruising victory over Neuchatel to stay unbeaten in the EuroCup Group D. Neuchatel fell to 2-2 record after the loss. Olena Zherzherunova paced Szeged with 18 points and 10 rebounds. Bernadett Nemeth added 15 points, while Ildiko Szakacs and Desire Almind added 14 points each in the win. Cameo Hicks responded with 18 points for the Swiss team. Emily Florence had 9 points in the loss.

Gran Canaria - Gospic 66-63
Gran Canaria narrowly defeated Gospic at home court to celebrate the first win in the EuroCup preliminary round. Thus Gran Canaria improved at 1-3 record in Pool F, while sending their opponents to 2-2 record. The first term proved to be decisive in the encounter as the hosts managed to limit Gospic to only 8 points and built a 7-point lead. Adrijana Knezevic finished the game with 21 points for Gran Canaria. Tiina Sten added 20 points and 7 rebounds for the winners. Jelena Ivezic was impressive with game-high 30 points for Gospic. Lamisha Augustine contributed 11 points and 8 rebounds in the loss.

Galatasaray - Buducnost 85-57
Galatasaray trashed ZKK Buducnost at home staying perfect after 4 games in Group G. Montenegrin representative will have to look for some other chance in order to celebrate the first win. Marina Kress was central figure of this match as she played 34 minutes pouring in 22 points and grabbing 14 boards. At the same time Kress dished out 6 assists. Yasemen Saylar also was on a decent level collecting 16 points and 5 assists. Korel Engin helped the winners with 14 pts plus 8 boards. ZKK Buducnost got 18 points from Maja Milutinovic and she was the only one with double digits in scoring for Montenegrin representative.

Tarbes - Olivais 88-78
French Tarbes celebrated the fourth victory in a row in EuroCup. Yesterday Tarbes overwhelmed Coimbra to stay on top of Group J. The Portuguese team in the meantime suffered the third loss in four games. The game turned into a tough challenge for the hosts. Coimbra threw all they had to win and managed to send the game into extra period. But Tarbes came back to life in the overtime and prevailed at the end. Isabelle Yacoubou-Dehoui finished with 26 points and 10 boards for Tarbes. Tanisha Wright added 21 points and 8 assists, while Ndeye Ndiaye scored 13 points for the winners. S Ventura F.Guilherme netted 19 points for Coimbra. Ambrosia Anderson came up with 14 points and 10 boards in the loss.

Athinaikos - Panionios 73-56
In the game between two Greek teams, Athinaikos BC celebrated against Panionios G.S.S. jumping on 4-0 in Group F. LaToya Davis shined for the hosts netting 20 points and pulling down 8 rebounds. Polymnia Sarekgou helped with 15 points while Katie Gearlds stopped on 10. Sheri Lynette Sam led the scorers in Panionios G.S.S. with 16 points. Lori Nero had 3 points less than her. Their team dropped on 1-3.

Spartak N. - Botas 92-84
Svetlana Romanova and Neli Nevzorova paced Spartak Noginsk to third win in Group L delivering 22 points each. Svetlana Khusainova also shined posting 17 points. Angela Tisdale was on a great level for the Turkish team. She spent 32 minutes on the court netting 30 points. Botasspor now has 1-3.

Foton - Solna Vikings 74-62
Foton outsmarted Solna Vikings at home so both teams currently have the same record in Group D, 1-3. Krisztina Kovacs top-scored for Foton with 19 points. Jurgita Kausaite posted 16 points for the Swedish team.

Arvi - Trutnov 52-60
Very important victory for Trutnov, who now has 3-1 in Group H. Arvis is not in so brilliant position facing with 3rd win in 4 games. Katerina Krizova delivered 15 points and pulled down 8 rebounds for Trutnov. Laima Rickeviciute collected 13 pts and 12 rebs in Arvi.

Chevakata - Lemminkain. 93-39
Chevkata totally destroyed Lemminkainen with plus 54. Evgenia Belyakova was the top scorer for the hosts with 21 points. Visitors had only Ausra Naideniene with double-digits in scoring, 12 points. All other players had less than 7. Chevkata is on 4-0 while Lemminkainen slipped on 1-3.

Cesis - Lavezzini PA 64-72
Both teams entered into this game with 2-1. Italian representative became the one who grabbed the third in Group I and it happened thanks to Jennifer Screen, who drained 22 points. Cesis got 11 points from Willnett Crockett and also had 4 players with 11 points apiece.



*****************************************************


Tarbes earn the fourth straight win - by Eurobasket News
Tarbes - Coimbra 88:78

French Tarbes celebrated the fourth victory in a row in EuroCup. Yesterday Tarbes overwhelmed Coimbra to stay on top of Group J. The Portuguese team in the meantime suffered the third loss in four games. The game turned into a tough challenge for the hosts. Coimbra threw all they had to win and managed to send the game into extra period. But Tarbes came back to life in the overtime and prevailed at the end.
Isabelle Yacoubou-Dehoui (195-C-86) opened the action with 5 straight points for Tarbes. The hosts soon extended their lead to 12:3 and looked like cruising comfortably. However the visitors refused to fold. Parham and Brandao scored 5 points late in the first quarter and Coimbra trailed by just 4 points. The teams traded baskets throughout the second period before Tarbes used consecutive buckets from Ndeye Ndiaye (191-F/C-79) and Arrondo to build a 38:31 advantage at halftime.
Isabelle Yacoubou-Dehoui, Tanisha Wright (180-G-83, agency: LBM Management, college: Penn St.) and Ndeye Ndiaye stretched the lead to 14 points early in the third quarter. But Coimbra answered with an impressive 17:2 rally to close the quarter ahead by 2 points 59:57. The lead changed hands several times in the fourth quarter before Isabelle Yacoubou-Dehoui and Tanisha Wright gave Tarbes a 78:75 lead with 16 seconds left. But the time left was just enough for S Ventura F.Guilherme to drain a three-pointer and send the game into overtime. However Coimbra obviously ran out of steam at that moment. Isabelle Yacoubou-Dehoui, Tanisha Wright and Eldebrink nailed 10 unanswered points and Tarbes drove to another EuroCuo victory.
Isabelle Yacoubou-Dehoui finished with 26 points and 10 boards for Tarbes. Tanisha Wright added 21 points and 8 assists, while Ndeye Ndiaye scored 13 points for the winners. S Ventura F.Guilherme netted 19 points for Coimbra. Ambrosia Anderson (186-F-84, college: BYU) came up with 14 points and 10 boards in the loss.

Tarbes: Isabelle Yacoubou-Dehoui 26+10 boards, Tanisha Wright 21, Ndeye Ndiaye 13
Coimbra: S Ventura F.Guilherme 19, Ambrosia Anderson 14+10 boards

Fowles ruined Lattes Montpellier in France - by Eurobasket News
Lattes Montpellier - Spartak 70:93

Spartak Moscow Region had a fabulous road victory in France over Lattes Montpellier. The defending champions produced 93:70 to improve to 4-1 record in Group D of EuroLeague. Sylvia Fowles (198-C-85, college: LSU) erupted for 25 points and also pulled down 17 rebounds. Lauren Jackson (196-F/C-81) scored 12 and Tatiana Shchegoleva (195-F/C-82) added 11. Sheana Mosch (177-G-81, college: Duke) replied with 21 points in defeat.
the defending champions started with 5:0 in the start and Karpunina increased to 10:2. Sylvia Fowles closed the opening quarter at 27:14. Spartak Moscow Region continued to dominate the court in the second quarter to show their superiority. After Sue Bird drilled back-to-back three-pointers Spartak had a 51:31 stranglehold on the game and were well on their way to a big victory.
Pauline Krawczyk (180-F-85) scored for 41:58 in the beginning of the third frame. Osipova was the last to score in the third for 75:52. Bertal opened the last frame for 75:54 and it was her again to pull the hosts to 64:81. Spartak Moscow Region controlled the situation and remained in front until the buzzer. Sylvia Fowles brought the fourth victory for the favorites making 93:70 at the end.

Lattes Montpellier: Sheana Mosch 21 points, Pauline Krawczyk 14
Spartak: Sylvia Fowles 25 points and 17 rebounds, Lauren Jackson 12, Tatiana Shchegoleva 11

Lille Metropole celebrated the initial win - by Eurobasket News


ESB Lille Metropole - TTT Riga 71:53

French Lille Metropole celebrated the initial win in the EuroLeague Women as they beat Latvian strugglers TTT Riga 71:53. Geraldine Robert (184-F-80) top-scored for the winners with 21 points and 15 rebounds. Ljubica Drljaca (190-F-78) nailed 15 and Jolene Anderson (173-G-86, agency: Regeneracom Sports, college: Wisconsin) posted 11. Essence Carson (183-G-86, college: Rutgers) finished the night with 14 points for the Latvian side.
Essence Carson started the campaign with a lay-up as TTT Riga hoped to leave French Lille Metropole winless. Trailing 9:14, the hosts however produced 11-0 run to take 20:14 at the end of the first as Castro nailed two. A 20-9 in the second quarter lifted them up to 40:23 at the halftime.
Kityzina and Essence Carson reduced the gap entering the third frame for 42:27. Anderson's three however gave the hosts plus 20, 51:31. Tatyana Troina (188-F/C-81, college: S.Carolina) closed the period at 58:37 from the arc. In the last quarter there was no chance Riga could catch up. The hosts continued to dominate the court and won the first game this season in Euroleague.

In another games of the group Umana Reyer remained undefeated even after the game against CSKA. Italian team proved the ambition and upset one of the favorites of Euroleague 66:63. MKB Euroleasing and Gambrinus battled for the third win in EuroLeague Women Group B in Hungary. The local team celebrated 68:65 victory due to the third period.

ESB Lille Metropole: Geraldine Robert 21 points and 15 rebounds, Ljubica Drljaca 15, Jolene Anderson 11.
TTT Riga: Essence Carson 14, Tatyana Troina 11



Bourges Basket falls lower, MiZo celebrates - by Eurobasket News
MiZo Pecs 2010 -Bourges Basket 62:58

Bourges Basket loses the second in a row in the EuroLeague campaign and after 3-0 fell at 3-2. Hungarian MiZo Pecs 2010 tied them with 3-2 record after 62:58 win. Anna Vajda (191-F/C-84) top-scored for the winners with 17 points. Graziane Coelho (192-C-83) netted 13 and Andrea Somogyi (184-F-86) scored 11. Alessandra Santos (200-C-73) collected 20 points and 11 rebounds in defeat as Ana Lelas (183-G/F-83) posted 11.
Miyem brought he first points for the guests in the game. Hungarian team stepped back and remained even in the game. Ivanyi made a lay-up with a foul to bring the hosts 16:14 advantage. Hungarian side scored the same number of points in the second frame but due to the better defense allowed the opponents to post 12. MiZo Pecs 2010 enjoyed 32:26 entering the second half.
Mazzante's three gave the hosts 39:29 in the beginning of the third. Ivanyi made a jump-shot for 50:39 after thirty minutes. The real battle started in the last quarter when the guests started to catch up. Manic made it 52:50 with 5 minutes to go. MiZo Pecs 2010 never trailed in the last minutes and kept the advantage for good.

MiZo Pecs 2010: Anna Vajda 17, Graziane Coelho 13, Andrea Somogyi 11
Bourges Basket: Alessandra Santos 20+11 rebs, Ana Lelas 11

*****************************************************


Recap of DBBL Round 7 - by Moritz Korff
Herne - Marburg 86:84
Herner TC earned its 5th win of the season by holding off the Blue Dolphins from Marburg. Nadzeya Drozd (168-G-83, agency: LBM Management) was unstoppable, she scored 29 points in the win and also had 7 rebounds and 5 assists. Katarina Flasarova (171-G-85) followed with 19 points, while Anna Szycko (173-G-78) shot a perfect 3/3 from beyond the arc and finished the contest with 16 points. The Marburg offense was paced by Margret Skuballa (186-F-87) and Sandra Weber (183-G/F-85) who netted 16 points apiece, Lisa Koop (197-C-85, college: Winthrop) added 15.

Oberhausen - Wasserburg 79:85
The defending champs from Wasserburg captured an away win at Oberhausen to secure the third place in the DBBL ladder. Rebecca Thoresen (178-F-78) who produced 19 points and pulled down 9 boards was one of 4 Wasserburg players in double-figure scoring. Carlene Hightower (180-F-86, college: La Salle) added 18 points, Yolanda Paige (168-G-83, college: W.Virginia) and Magdalena von Geyr (180-F-84) each tallied 13. Oberhausen's Heather Ernest (186-F/C-81, college: Maine) replied with 21 points and 15 rebounds, Mandy Haenel (170-G-86) drained 4 treys and had 14 points totally.

Leipzig - Wolfenbuettel 85:69
Kyle DeHaven (175-G-84, college: Delaware), the new playmaker of the Leipzig Eagles, had a good start in Germany, as she led her new side to success with 8 points, 10 assists and 8 steals. Her teammate Annika Danckert (182-F-81) led all scores with 29 points (including 4/6 from three-point land) and also grabbed 9 rebounds. Elena Diaz (185-F-83, college: Nebraska) added 19 points. Meanwhile, the Wildcats are still waiting for their first victory of this current season. Nica Gemo (196-C-82, college: San Jose St.) showed an impressive individual performance (29 points, 11 rebounds) in defeat, the same did Anita Teilane (196-C-85) who was only 1 blocked shot away from a trible-double (20 points, 15 rebounds, 9 blocks).

Donau-Ries - Chemnitz 80:59
DBBL-newcomer WWK Donau-Ries handed the ChemCats another loss. The Chemnitz defense was unable to stop Megan Vogel (180-G/F-85, college: S.Dakota St.) who earned 27 points and 14 rebounds for WWK, Tanya Broering (177-G-84, agency: LBM Management) followed with 13 points and 10 boards. On the other end of the court Chevon Keith (178-G-86, college: W.Carolina) put in 16 points for Chemnitz. She also grabbed 9 rebounds.

Goettingen - Saarlouis 53:67
The Royals defeated Goettingen on the road to stay on top of the league. Isabelle Comtesse (180-G-82) led her team with 14 points and 9 assists, Fantasia Goodwin (179-G/F-85, agency: LBM Management) added 16 points and Romy Baer (188-F-87) had 14. Goettingen's recently signed forward Jaysle Chambers (188-F, college: Ill.-Chicago) finished her first game as a Violet with 9 points, Dasa Rajecka (189-C-87) netted 11 points in the loss.

Freiburg - Halle 75:82
The Lions continued their winning streak by overcoming Freiburg. With 7 straight wins the team of coach Peter Kortmann is still undefeated this season. His team got 22 points, 13 rebounds and 6 steals from Tamara Tatham (185-F-85, college: Massachusetts) against USC, Ana-Maria Kammer (179-F/C-86) added 15 points, Amanda Rego (170-G-86, college: San Diego) had 12 points and dished out 10 assists. Freiburg's point-production was led by a former Halle player, Brittney Whiteside (172-G-85, college: Wright St.), who tallied 18 points, Sabrina Moller (174-F-88) finished the match with 17 points and 8 boards.

*****************************************************


Aris Holargos - Monevil 53 - 59 - by George Manousidis
Aris Holargos defeated by 59-53 in his home by the Montevil. The Greek team was back even with 23 points (18-41 in 24 ') but with a counterattack managed to reduce to 2 points (53-55 in 38') but in the last two minutes failed to show the necessary composure and experienced to avoid defeat.The players of coach Mavridi had a very bad second quarter, which made 9 minutes to put the ball in the basket of leading opponent.

*****************************************************


Szeged stay perfect in EuroCup - by Eurobasket News
Neuchatel - Szeged 52:74

Szeged secured a cruising victory over Neuchatel to stay unbeaten in the EuroCup Group D. Neuchatel fell to 2-2 record after the loss. Olena Zherzherunova (191-F-78, agency: LBM Management) paced Szeged with 18 points and 10 rebounds. Bernadett Nemeth (173-G-80) added 15 points, while Ildiko Szakacs (187-F-81) and Desire Almind (180-F-82, agency: LBM Management, college: Bucknell) added 14 points each in the win. Cameo Hicks (178-G-84, agency: LBM Management, college: Washington) responded with 18 points for the Swiss team. Emily Florence (165-G-85, college: Washington) had 9 points in the loss. More than 1000 spectators gathered to watch Group D leaders clash. The first term was quite leveled battle with neither side able to clear off substantially. The visitors finally prevailed in the battle of defenses piling up a 15:12 lead at the first break. The defense was the main accent in the second term. Szeged once again succeeded as they limited the hosts to just 9 points and stretched the gap to as many as 9 points at halftime.
Neuchatel seemed to find the right offensive tempo in the third frame but still struggled defensively and conceded 28 points as Szeged extended the margin to 21 points before the fourth term. The hosts never recovered in the fourth term and Szeged eased to the fourth victory in the tournament.
Neuchatel will next take on the Solna Vikings away from home. Szeged will face Foton on the road in the Hungarian derby.

Neuchatel: Cameo Hicks 18, Emily Florence 9, Katalin Kurtosi (193-C-81, agency: LBM Management, college: St.John's) 9
Szeged: Olena Zherzherunova 18+10 boards, Bernadett Nemeth 15, Ildiko Szakacs 14, Desire Almind 14

Bourges Basket falls lower, MiZo celebrates - by Eurobasket News
MiZo Pecs 2010 -Bourges Basket 62:58

Bourges Basket loses the second in a row in the EuroLeague campaign and after 3-0 fell at 3-2. Hungarian MiZo Pecs 2010 tied them with 3-2 record after 62:58 win. Anna Vajda (191-F/C-84) top-scored for the winners with 17 points. Graziane Coelho (192-C-83) netted 13 and Andrea Somogyi (184-F-86) scored 11. Alessandra Santos (200-C-73) collected 20 points and 11 rebounds in defeat as Ana Lelas (183-G/F-83) posted 11.
Miyem brought he first points for the guests in the game. Hungarian team stepped back and remained even in the game. Ivanyi made a lay-up with a foul to bring the hosts 16:14 advantage. Hungarian side scored the same number of points in the second frame but due to the better defense allowed the opponents to post 12. MiZo Pecs 2010 enjoyed 32:26 entering the second half.
Mazzante's three gave the hosts 39:29 in the beginning of the third. Ivanyi made a jump-shot for 50:39 after thirty minutes. The real battle started in the last quarter when the guests started to catch up. Manic made it 52:50 with 5 minutes to go. MiZo Pecs 2010 never trailed in the last minutes and kept the advantage for good.

MiZo Pecs 2010: Anna Vajda 17, Graziane Coelho 13, Andrea Somogyi 11
Bourges Basket: Alessandra Santos 20+11 rebs, Ana Lelas 11

*****************************************************


First loss for Hamar - by Siggi Hjorleifsson
Hamar lost their first game in Iceland Express league when Keflavik beat them 90-76 at Hamar.
Top scorers for Hamar. La Kiste Barkus 26. Iris Asgeirsdottir 19. Hafrun Halfdanardottir 17. Julia Deminer 14 + 22 rebounds.
For Keflavik. Ingibjorg Elva Vilbergsdottir 23 + 10 rebs. Birna Valgardsdottir 20 + 12 rebs.

Grindavik 58 Haukar 66. Only Petrunella Skuladottir in double figures for Grindavik 12 pts. For Haukar Ragna M Brynjolfsdottir 21 + 16 rebs. Kristrun Sigurjonsdottir 20

Valur 57 KR 59 Signy Hermannsdottir with good game for Valur 20 pts + 16 rebs. Sigrun Amundadottir (183-C/F-88) with huge game for KR 31 pts. 7 threes & 11 boards.

*****************************************************


Umana Reyer proves the ambitions in Euroleague - by Eurobasket News
Umana Reyer - CSKA Moscow 66:63

Umana Reyer remained undefeated even after the game against CSKA. Italian team proved the ambition and upset one of the favorites of Euroleague 66:63. Vanessa Hayden-Johnson (194-C-82, college: Florida) top-scored for the winners with 19 points and 13 rebounds. Giorgia Sottana (177-G-88) netted 14, while Simona Ballardini (183-F-81) and Daliborka Jocic (185-F-81) had 9 each. Katie Douglas (185-G/F-79, college: Purdue) produced 23 points in defeat and Ann Wauters (194-C-80) collected 18 points and 12 boards.
When Sottana scored first four points for the hosts in the game CSKA did not panic too much and hoped for the victory. The Russian squad too control of the period and had 21:14 at the end as Ann Wauters made a jump-shot. Lisina made the guests to taste the biggest lead in the middle of the second period, 25:15. Andrade tied the game at 33:33 as Italian team found its game. Umana Reyer looked as if they were finally seizing command at the end of the third quarter when they went in front 52:45. Daliborka Jocic kept the Italian advantage to 61:55 with 4 minutes to play. CSKA battled and again close the gap to 65:63 with less than a minute. The Russian team had a chance but again Daliborka Jocic buried the guests from the free throw line for 66:63.

Umana Reyer: Vanessa Hayden-Johnson 19 points and 13 rebounds, Giorgia Sottana 14, Simona Ballardini 9, Daliborka Jocic 9.
CSKA Moscow: Katie Douglas 23 points, Ann Wauters 18 points and 12 boards

Fenerbahce defeats Beretta Famila in Group D - by Eurobasket News
Beretta Famila -Fenerbahce 68:73

Fenerbahce clinched their third success of the EuroLeague Women in Italy. The Turkish team overcame Beretta Famila in Schio 68:73. Esmeral Tuncluer (175-G-80) led Fener in their road triumph with 20 points. Nevriye Yilmaz (195-C-80) and Melike Bakircioglu (191-F/C-87) both added 10 for 3-2 record. Nicole Antibe (187-C/F-74) finished the night with 16 points in the losing effort.
Laura Macchi (187-F-79) gave the hosts an early lead and Martinez kept Italians in front, 9:4. The game was even throughout the first half as Laura Macchi scored for 32:31 at the halftime. Beretta Famila played better in the third and had 57:49 at the end of the frame. Sutton-Brown tied the game with a jump shot with a minute remaining and France international Emilie Gomis followed with a jumper to put Fener in front for good.
In another games TEO Vilnius smashed Maxima Broker 72:49 in EuroLeague Women Group D. Slovakian team has some problems in the last games not only in Euroleague but in the National arena as well. Spartak Moscow Region had a fabulous road victory in France over Lattes Montpellier. The defending champions produced 93:70 to improve to 4-1 record in Group D of EuroLeague. More games to go and there should be changes in the group.

Beretta Famila: Nicole Antibe 16, Laura Macchi 11
Fenerbahce: Esmeral Tuncluer 20 points, Nevriye Yilmaz 10, Melike Bakircioglu 10

*****************************************************


Lille Metropole celebrated the initial win - by Eurobasket News


ESB Lille Metropole - TTT Riga 71:53

French Lille Metropole celebrated the initial win in the EuroLeague Women as they beat Latvian strugglers TTT Riga 71:53. Geraldine Robert (184-F-80) top-scored for the winners with 21 points and 15 rebounds. Ljubica Drljaca (190-F-78) nailed 15 and Jolene Anderson (173-G-86, agency: Regeneracom Sports, college: Wisconsin) posted 11. Essence Carson (183-G-86, college: Rutgers) finished the night with 14 points for the Latvian side.
Essence Carson started the campaign with a lay-up as TTT Riga hoped to leave French Lille Metropole winless. Trailing 9:14, the hosts however produced 11-0 run to take 20:14 at the end of the first as Castro nailed two. A 20-9 in the second quarter lifted them up to 40:23 at the halftime.
Kityzina and Essence Carson reduced the gap entering the third frame for 42:27. Anderson's three however gave the hosts plus 20, 51:31. Tatyana Troina (188-F/C-81, college: S.Carolina) closed the period at 58:37 from the arc. In the last quarter there was no chance Riga could catch up. The hosts continued to dominate the court and won the first game this season in Euroleague.

In another games of the group Umana Reyer remained undefeated even after the game against CSKA. Italian team proved the ambition and upset one of the favorites of Euroleague 66:63. MKB Euroleasing and Gambrinus battled for the third win in EuroLeague Women Group B in Hungary. The local team celebrated 68:65 victory due to the third period.

ESB Lille Metropole: Geraldine Robert 21 points and 15 rebounds, Ljubica Drljaca 15, Jolene Anderson 11.
TTT Riga: Essence Carson 14, Tatyana Troina 11



*****************************************************


TEO continues Broker Kosice downfall - by Eurobasket News
TEO Vilnius -Broker Kosice 72:49

TEO Vilnius smashed Maxima Broker 72:49 in EuroLeague Women Group D. Slovakian team has some problems in the last games not only in Euroleague but in the National arena as well. Crystal Langhorne (188-F/C-86, college: Maryland) had 19 points and 15 rebounds as her team reached 4-1 record. Noelle Quinn (183-G-85, college: UCLA) supported her with 18 points and Lindsey Wilson (176-G-81, college: Iowa St.) scored 14. Linda Frohlich (188-F/C-79, agency: LBM Management, college: UNLV) was the only player for the guests to reach double digit, as she posted 11 points.
The piscture in the group is very different with what it was in the start of the campaign. TEO lost the opener to Fener and was at the bottom, while Kosice started with 3-0 record. It was difficult to predict the winner, but TEO delivered a knockout punch by scoring the first nine points of the third quarter.
Before that the game was knotted at 25:25 and the teams looked even in the court. A 26-12 in the third period gave the hosts 14 points advantage enetering the last stanza. Valentiene with a three made it 51:37 for the Baltic side. Katarina Hrickova (180-F-80) scored a free throw for the guests leaving them at 45 for a long time in the period. TEO produced a 15-0 run to take 70;45 with a minute to play. Crystal Langhorne was the last to score in the game for 72:49.

TEO Vilnius: Crystal Langhorne 19 points and 15 rebounds, Noelle Quinn 18 points, Lindsey Wilson 14
Broker Kosice: Linda Frohlich 11

*****************************************************


The defending champions lose second straight - by Eurobasket News
The DBBL reigning champions Basket Esch suffered the second loss in a row. After falling short against Etzella they were unable to overcome Contern 58:62 on the road. Basket Esch got to a slightly better start as they enjoyed a 19:18 lead after ten minutes of action. The teams were all square at 44 before the fourth term. But the hosts eked out a tough victory at the very end of the game posting the 4th success in the season. Claire Margue (170-G-81) was responsible for 14 points, 6 boards and 4 assists for Contern. Amanda Stowe (186-F/C-79, agency: Next Level, college: Wisc.-Green Bay) came up with 13 points and 9 rebounds in the win. Alicia Gladden (180-F-85, agency: Regeneracom Sports, college: Florida St.) tallied 24 points and 13 boards for Basket Esch. Joy Schulte (168-G-91) had 10 points in the loss.
Etzella scored the sixth straight win in the season as they outgunned Schieren 107:47 away from home. Katie Donovan (183-F-82) was once again unstoppable with 34 points for Etzella. Nina Goedert (173-F-92) secured 13 points in the winning case. Shaneisha Walton answered with 20 points and 16 rebounds for Schieren in the loss.
T71 Dudelange improved to 4-2 record with a 66:58 road win against Amicale. Dudelange trailed by as many as 6 points at halftime but bounced back in the second part of the encounter. Melissa Dennett (188-F-83, college: Colorado St.) notched 17 points and 12 boards to lead T71. Alexandra Kugener (178-F/C-83) contributed 14 points and 12 caroms for the winners. Lisa Lee (183-F-84, college: Charleston So.) secured 21 points and 8 rebounds for Amicale in defeat.

Standings - Women


DBBL Standings



*****************************************************


Lotos outscores USK Prague at home - by Eurobasket News
Lotos PKO BP -USK Prague 71:57

Lotos PKO BP beat USK Prague for the second win in Euroleague Group C campaign. The Polish side celebrated 71:57 win at home to improve to 2-3. Ivana Matovic (197-C-83) led the winners with 18 points and 6 rebounds. Ekaterina Snytsina (188-F-85) nailed 11, while Emilja Podrug (190-C-79) and Alana Beard (180-G/F-82, college: Duke) posted 10 each. Lindsay Whalen (173-G-82, college: Minnesota) ended up with 21 points in defeat, while Le Drean and Evanthia Maltsi (180-F-78) had 8 each. USK Prague dropped to 1-4 and covers the bottom of the group.
Lotos PKO BP started very well and Marchanka's three closed 7-0 run from the hosts. Le Drean pulled her team to 9:7, but Ivana Matovic made it 15:9 in the middle of the first. Alana Beard closed the opening quarter at 23:11. The hosts continued to dictate the game in the second quarter and reached 18 points deficit at the halftime. Alana Beard made the second free throw for 44:26 closing the first half.
In the third frame the teams paid more attention to defense and USK Prague managed to take 13-10 win. Ivana Matovic's lay-up made it 54:39 after thirty minutes of the game. With another 18-17 victory in the last period the team from Czech Republic reduced to 71:57 as the teams finished the game.

Lotos PKO BP: Ivana Matovic 18+6 rebs, Ekaterina Snytsina 11, Emilja Podrug 10+10 rebs, Alana Beard 10
USK Prague: Lindsay Whalen 21, Le Drean 8, Evanthia Maltsi 8

*****************************************************


Tarbes earn the fourth straight win - by Eurobasket News
Tarbes - Coimbra 88:78

French Tarbes celebrated the fourth victory in a row in EuroCup. Yesterday Tarbes overwhelmed Coimbra to stay on top of Group J. The Portuguese team in the meantime suffered the third loss in four games. The game turned into a tough challenge for the hosts. Coimbra threw all they had to win and managed to send the game into extra period. But Tarbes came back to life in the overtime and prevailed at the end.
Isabelle Yacoubou-Dehoui (195-C-86) opened the action with 5 straight points for Tarbes. The hosts soon extended their lead to 12:3 and looked like cruising comfortably. However the visitors refused to fold. Parham and Brandao scored 5 points late in the first quarter and Coimbra trailed by just 4 points. The teams traded baskets throughout the second period before Tarbes used consecutive buckets from Ndeye Ndiaye (191-F/C-79) and Arrondo to build a 38:31 advantage at halftime.
Isabelle Yacoubou-Dehoui, Tanisha Wright (180-G-83, agency: LBM Management, college: Penn St.) and Ndeye Ndiaye stretched the lead to 14 points early in the third quarter. But Coimbra answered with an impressive 17:2 rally to close the quarter ahead by 2 points 59:57. The lead changed hands several times in the fourth quarter before Isabelle Yacoubou-Dehoui and Tanisha Wright gave Tarbes a 78:75 lead with 16 seconds left. But the time left was just enough for S Ventura F.Guilherme to drain a three-pointer and send the game into overtime. However Coimbra obviously ran out of steam at that moment. Isabelle Yacoubou-Dehoui, Tanisha Wright and Eldebrink nailed 10 unanswered points and Tarbes drove to another EuroCuo victory.
Isabelle Yacoubou-Dehoui finished with 26 points and 10 boards for Tarbes. Tanisha Wright added 21 points and 8 assists, while Ndeye Ndiaye scored 13 points for the winners. S Ventura F.Guilherme netted 19 points for Coimbra. Ambrosia Anderson (186-F-84, college: BYU) came up with 14 points and 10 boards in the loss.

Tarbes: Isabelle Yacoubou-Dehoui 26+10 boards, Tanisha Wright 21, Ndeye Ndiaye 13
Coimbra: S Ventura F.Guilherme 19, Ambrosia Anderson 14+10 boards

*****************************************************


Fowles ruined Lattes Montpellier in France - by Eurobasket News
Lattes Montpellier - Spartak 70:93

Spartak Moscow Region had a fabulous road victory in France over Lattes Montpellier. The defending champions produced 93:70 to improve to 4-1 record in Group D of EuroLeague. Sylvia Fowles (198-C-85, college: LSU) erupted for 25 points and also pulled down 17 rebounds. Lauren Jackson (196-F/C-81) scored 12 and Tatiana Shchegoleva (195-F/C-82) added 11. Sheana Mosch (177-G-81, college: Duke) replied with 21 points in defeat.
the defending champions started with 5:0 in the start and Karpunina increased to 10:2. Sylvia Fowles closed the opening quarter at 27:14. Spartak Moscow Region continued to dominate the court in the second quarter to show their superiority. After Sue Bird drilled back-to-back three-pointers Spartak had a 51:31 stranglehold on the game and were well on their way to a big victory.
Pauline Krawczyk (180-F-85) scored for 41:58 in the beginning of the third frame. Osipova was the last to score in the third for 75:52. Bertal opened the last frame for 75:54 and it was her again to pull the hosts to 64:81. Spartak Moscow Region controlled the situation and remained in front until the buzzer. Sylvia Fowles brought the fourth victory for the favorites making 93:70 at the end.

Lattes Montpellier: Sheana Mosch 21 points, Pauline Krawczyk 14
Spartak: Sylvia Fowles 25 points and 17 rebounds, Lauren Jackson 12, Tatiana Shchegoleva 11

Umana Reyer proves the ambitions in Euroleague - by Eurobasket News
Umana Reyer - CSKA Moscow 66:63

Umana Reyer remained undefeated even after the game against CSKA. Italian team proved the ambition and upset one of the favorites of Euroleague 66:63. Vanessa Hayden-Johnson (194-C-82, college: Florida) top-scored for the winners with 19 points and 13 rebounds. Giorgia Sottana (177-G-88) netted 14, while Simona Ballardini (183-F-81) and Daliborka Jocic (185-F-81) had 9 each. Katie Douglas (185-G/F-79, college: Purdue) produced 23 points in defeat and Ann Wauters (194-C-80) collected 18 points and 12 boards.
When Sottana scored first four points for the hosts in the game CSKA did not panic too much and hoped for the victory. The Russian squad too control of the period and had 21:14 at the end as Ann Wauters made a jump-shot. Lisina made the guests to taste the biggest lead in the middle of the second period, 25:15. Andrade tied the game at 33:33 as Italian team found its game. Umana Reyer looked as if they were finally seizing command at the end of the third quarter when they went in front 52:45. Daliborka Jocic kept the Italian advantage to 61:55 with 4 minutes to play. CSKA battled and again close the gap to 65:63 with less than a minute. The Russian team had a chance but again Daliborka Jocic buried the guests from the free throw line for 66:63.

Umana Reyer: Vanessa Hayden-Johnson 19 points and 13 rebounds, Giorgia Sottana 14, Simona Ballardini 9, Daliborka Jocic 9.
CSKA Moscow: Katie Douglas 23 points, Ann Wauters 18 points and 12 boards

*****************************************************


TEO continues Broker Kosice downfall - by Eurobasket News
TEO Vilnius -Broker Kosice 72:49

TEO Vilnius smashed Maxima Broker 72:49 in EuroLeague Women Group D. Slovakian team has some problems in the last games not only in Euroleague but in the National arena as well. Crystal Langhorne (188-F/C-86, college: Maryland) had 19 points and 15 rebounds as her team reached 4-1 record. Noelle Quinn (183-G-85, college: UCLA) supported her with 18 points and Lindsey Wilson (176-G-81, college: Iowa St.) scored 14. Linda Frohlich (188-F/C-79, agency: LBM Management, college: UNLV) was the only player for the guests to reach double digit, as she posted 11 points.
The piscture in the group is very different with what it was in the start of the campaign. TEO lost the opener to Fener and was at the bottom, while Kosice started with 3-0 record. It was difficult to predict the winner, but TEO delivered a knockout punch by scoring the first nine points of the third quarter.
Before that the game was knotted at 25:25 and the teams looked even in the court. A 26-12 in the third period gave the hosts 14 points advantage enetering the last stanza. Valentiene with a three made it 51:37 for the Baltic side. Katarina Hrickova (180-F-80) scored a free throw for the guests leaving them at 45 for a long time in the period. TEO produced a 15-0 run to take 70;45 with a minute to play. Crystal Langhorne was the last to score in the game for 72:49.

TEO Vilnius: Crystal Langhorne 19 points and 15 rebounds, Noelle Quinn 18 points, Lindsey Wilson 14
Broker Kosice: Linda Frohlich 11

*****************************************************


Gran Canaria roll to the initial win in EuroCup - by Eurobasket News
Gran Canaria - Gospic 66:63

Gran Canaria narrowly defeated Gospic at home court to celebrate the first win in the EuroCup preliminary round. Thus Gran Canaria improved at 1-3 record in Pool F, while sending their opponents to 2-2 record. The first term proved to be decisive in the encounter as the hosts managed to limit Gospic to only 8 points and built a 7-point lead. Gran Canaria opened the game with 10:0 run and secured a 15:8 advantage after ten minutes of action. Adrijana Knezevic (184-F-87) and Tiina Sten (185-G/F-85, college: St.John's) teamed up for 14 points in the second quarter and Gran Canaria stretched the margin to 9 points at halftime. However the game was far from being done. Marija Vrsaljko (195-C-89) and Jelena Ivezic (184-G-84) dragged Gospic back into the contest. They cut the distance to 4 points and then Elbele and Jelena Ivezic capped the frame with 5 points to make it just 46:48 for the hosts. Back-to-back trebles from Jelena Ivezic allowed Gospic to draw things level at 52 early in the fourth quarter. Eva Montesdeoca (198-C-81), Adrijana Knezevic and Tiina Sten pulled Gran Canaria back in charge 64:59 with just over a minute remaining. Jelena Ivezic did not surrender and scored 4 straight points for the visitors to reignite the intrigue. But Adrijana Knezevic silenced Gospic with accurate freebies.
Adrijana Knezevic finished the game with 21 points for Gran Canaria. Tiina Sten added 20 points and 7 rebounds for the winners. Jelena Ivezic was impressive with game-high 30 points for Gospic. Lamisha Augustine (186-F-82, agency: LBM Management, college: San Jose St.) contributed 11 points and 8 rebounds in the loss.

Gran Canaria: Adrijana Knezevic 21, Tiina Sten 20, Naomi Halman (191-F/C-86, agency: Regeneracom Sports, college: Cal-Irvine) 7
Gospic: Jelena Ivezic 30, Lamisha Augustine 11

Valdemoro's Ros Casares grabs the victory in Croatia - by Eurobasket News
Jolly JBS Sibenik - Ros Casares 72:83

Sibenik and Ros Casares struggled for the third win in EuroLeague Group C as the latter posted 72:83 road win. Amaya Valdemoro (184-F-76) led the winners with 24 points and 5 assists. Elisa Aguilar (178-G-76, college: George Washington) netted 13 and Brazilian Erika De Souza (197-C-82) scored 12. Kerri Gardin (186-F-84, agency: Regeneracom Sports, college: Virginia Tech) and Ivana Jurcevic (174-G-81) ended up with 20 points apiece for the home side.
Vesela with a jump-shot opened the game for the guests as later they made it 12:6. Erika De Souza brought 17:9, while Gardin closed the first at 19:11. In the second period Ros Casares pushed the tempo and enjoyed the double digits. Montanana posted 2 for 31:16 and Erika De Souza made 37:18. Cakic closed the first half for 37:20 as Spanish team looked forward for the second half.
Jolly JBS Sibenik brought the intrigue back to the court after 24-20 in the third frame. Aguilar still remained the visitors in front at 57:44 closing the third period. In the last stanza Terglav-Tratsiak pulled the hosts to 57:67 and Kerri Gardin made it 60:69. Amaya Valdemoro and Elisa Aguilar kept the advantage for the guests as Ros Casares posted 72:83 road win. Ros Casares is 3-2 while Sibenik fell at 2-3.

Jolly JBS Sibenik: Kerri Gardin 20,Ivana Jurcevic 20
Ros Casares: Amaya Valdemoro 24 points and 5 assists, Elisa Aguilar 13, Erika De Souza 12

*****************************************************


Szeged stay perfect in EuroCup - by Eurobasket News
Neuchatel - Szeged 52:74

Szeged secured a cruising victory over Neuchatel to stay unbeaten in the EuroCup Group D. Neuchatel fell to 2-2 record after the loss. Olena Zherzherunova (191-F-78, agency: LBM Management) paced Szeged with 18 points and 10 rebounds. Bernadett Nemeth (173-G-80) added 15 points, while Ildiko Szakacs (187-F-81) and Desire Almind (180-F-82, agency: LBM Management, college: Bucknell) added 14 points each in the win. Cameo Hicks (178-G-84, agency: LBM Management, college: Washington) responded with 18 points for the Swiss team. Emily Florence (165-G-85, college: Washington) had 9 points in the loss. More than 1000 spectators gathered to watch Group D leaders clash. The first term was quite leveled battle with neither side able to clear off substantially. The visitors finally prevailed in the battle of defenses piling up a 15:12 lead at the first break. The defense was the main accent in the second term. Szeged once again succeeded as they limited the hosts to just 9 points and stretched the gap to as many as 9 points at halftime.
Neuchatel seemed to find the right offensive tempo in the third frame but still struggled defensively and conceded 28 points as Szeged extended the margin to 21 points before the fourth term. The hosts never recovered in the fourth term and Szeged eased to the fourth victory in the tournament.
Neuchatel will next take on the Solna Vikings away from home. Szeged will face Foton on the road in the Hungarian derby.

Neuchatel: Cameo Hicks 18, Emily Florence 9, Katalin Kurtosi (193-C-81, agency: LBM Management, college: St.John's) 9
Szeged: Olena Zherzherunova 18+10 boards, Bernadett Nemeth 15, Ildiko Szakacs 14, Desire Almind 14

*****************************************************


Big Game This Weekend - by Cem Guvener
Galatasaray and Fenerbahce, two teams that played in the finals last year, are going head to head on Saturday. Galatasaray will have the advantage of playing at Ayhan Sahenk, where as Fenerbahce is on a hot streak after beating Beretta Familia in Italy. Galatasaray has only lost to Samsun Basket so far in all their games. Fenerbahce has lost to Galatasaray in the Presidency Cup and lost 2 games at Euroleague but they are perfect in the 4 TBBL games they have played so far.

Fenerbahce defeats Beretta Famila in Group D - by Eurobasket News
Beretta Famila -Fenerbahce 68:73

Fenerbahce clinched their third success of the EuroLeague Women in Italy. The Turkish team overcame Beretta Famila in Schio 68:73. Esmeral Tuncluer (175-G-80) led Fener in their road triumph with 20 points. Nevriye Yilmaz (195-C-80) and Melike Bakircioglu (191-F/C-87) both added 10 for 3-2 record. Nicole Antibe (187-C/F-74) finished the night with 16 points in the losing effort.
Laura Macchi (187-F-79) gave the hosts an early lead and Martinez kept Italians in front, 9:4. The game was even throughout the first half as Laura Macchi scored for 32:31 at the halftime. Beretta Famila played better in the third and had 57:49 at the end of the frame. Sutton-Brown tied the game with a jump shot with a minute remaining and France international Emilie Gomis followed with a jumper to put Fener in front for good.
In another games TEO Vilnius smashed Maxima Broker 72:49 in EuroLeague Women Group D. Slovakian team has some problems in the last games not only in Euroleague but in the National arena as well. Spartak Moscow Region had a fabulous road victory in France over Lattes Montpellier. The defending champions produced 93:70 to improve to 4-1 record in Group D of EuroLeague. More games to go and there should be changes in the group.

Beretta Famila: Nicole Antibe 16, Laura Macchi 11
Fenerbahce: Esmeral Tuncluer 20 points, Nevriye Yilmaz 10, Melike Bakircioglu 10

*****************************************************


U.S. VIRGIN ISLANDS - Women



Akeema Richars signs with West Virginia - by David Edole
West Virginia University womens basketball Coach Mike Carey today announced the addition of four future Mountaineers who signed their national letters of intent to attend WVU next year.

Giving the coach signatures were Asya Bussie, Kyra Crosby, Antishia Wright and St. Thomas native Akeema Richards.

'Since Ive been at West Virginia, this is the strongest group of recruits weve ever signed at one time,' Carey says. 'I'm extremely pleased with this class. The future is very bright, and I expect them all to contribute to this program immediately. Every player is ranked in the nations Top 100, and this is clearly a Top 20 class. We will rebuild our program with this class.'

Richards, a 5-9 point guard at Western High in Baltimore, has scored 1,030 points in her career (just the second player in school history) for the three-time defending 3A North Region and Baltimore City Champion Lady Doves and Coach Tiffany Silver. She is ranked the 79th-best player in the country by All Star Girls Report. In her career, she has averaged 12.1 points, 2.9 rebounds and 4.2 assists per game along with a 50.3 field goal shooting percentage.

Richards is a two-time Baltimore Sun All-Metro first team and garnered second team accolades as a freshman. As a sophomore, she was the Baltimore City Player of the Year and is a two-time Baltimore Sun All-City first team. She garnered second team accolades as a freshman. She also garnered Digital Sports City Player of the Year honors in 2007.

'Akeema is truly the poster child of what a student-athlete is all about,' Silver says. 'Shes an honor roll student and one of the top players in all of Maryland. She has a great amount of humility and has meant so much to our program. I expect the same things out of her while shes at West Virginia. Shell do extremely well academically and will be a role model on-and-off the court.'

'Akeema is a very aggressive athlete on the perimeter and she can play several positions,' Carey says. 'She's capable of scoring and setting up others on the perimeter.'